A Texas bill aimed at undermining a U.S. Supreme Court ruling in favor of same-sex marriage died midnight as the deadline passed without the bill coming up for a vote, The Texas Tribune reports: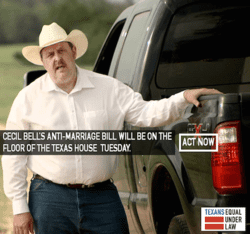 Enough Republicans had signed on as co-sponsors to guarantee the bill's passage had it reached the floor, and Democrats spent Thursday prolonging debate in an attempt to run down the clock and prevent Bell's legislation from being heard — a practice called "chubbing." They were ultimately successful. 
While the bill is now dead, Bell is not out of moves. He could still attempt to attach an amendment to a related Senate bill. 
"From my perspective, no bill is dead as long as there are are other bills in front. You just have to find something that's germane," Bell said after passage of the House deadline spawned hope among opponents that the measure is done with for this session. "The session still moves on."
Texas Freedom Network president Kathy Miller reacted with the following statement:
"We hope today's action means the death of this irresponsible bill and are grateful to all of the legislators who have worked hard to ensure that it never gets out of the House. This was just one bill among many in a broad strategy to lock in discrimination against gay and transgender Texans and subvert a Supreme Court ruling on the freedom to marry. Bad actors will continue to push their discrimination legislation, including as amendments to other bills, until the final gavel. So we're not letting our guard down now."
Added Equality Texas executive director Chuck Smith:
"Thanks to the leadership of our allies in the Texas House, the clock ran out on HB 4105 at midnight. Unfortunately for LGBT Texans, there are still 17 days remaining in the legislative session — 17 days during which homophobic and transphobic lawmakers will continue to look for amendment opportunities to inflict discrimination. We must continue to fight their efforts to defy the Supreme Court and to deny equality to LGBT Texans ­ through the end of the legislative session and beyond."