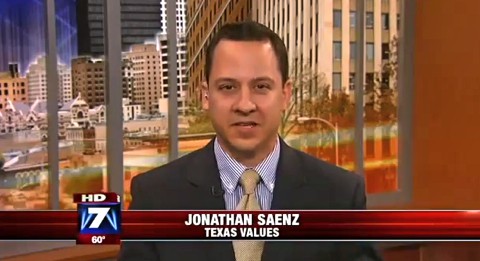 The leader of an anti-LGBT hate group says Texas' same-sex marriage ban has helped make it the most business-friendly state in the nation. 
Jonathan Saenz, president of Texas Values, also blasted the state chamber of commerce for allegedly helping to kill a bill that would have banned local LGBT protections. 
Saenz, whose ex-wife famously left him for a woman, made the comments last week during an interview with host Craig James on the Family Research Council's "Washington Watch" radio program. 
The Texas Observer reports: 
"Texas has been No. 1 for business for 10 straight years—that is during the same 10 years that our marriage laws have been between one man and one woman," Saenz said. "It appears to me those policies have helped Texas and been a part of what makes Texas great. You see people flocking from New Yorks and Clairofni bec. of our business climate." 
Saenz told James that the Texas Association of Business — the state's chamber of commerce —  killed Senate Bill 1155, which would have banned local LGBT protections. However, the Texas Association of Business actually took no position on the bill, according to the Observer: 
The TAB made headlines when it came out against two religious freedom proposals, but it did not publicly take a position on SB 1155 or other anti-LGBT legislation. … 

"The business lobby, the Texas Association of Business, has decided now they're going to put all their investment in the homosexual agenda, and that's one of the things they did," Saenz said. "It was a big surprise to a lot of lawmakers, and when they did that it had a very negative impact on the impression of what this law was really about. The Texas Association of Business has clearly turned their back on the values of Texas."
Saenz was scheduled to appear Monday afternoon on Michelangelo Signorile's XM Radio show, which is in Texas this week, but Signorile said he canceled at the last minute. Listen to Saenz's full "Washington Watch" interview, AFTER THE JUMP …