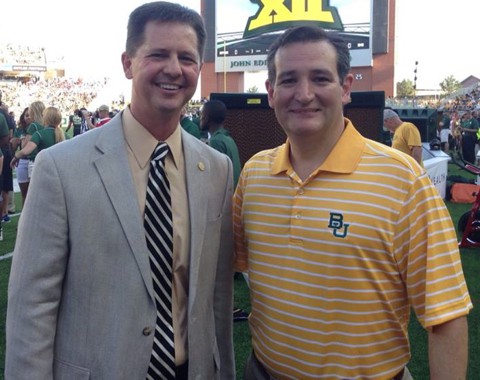 The Texas House of Representatives is expected to consider a proposal Tuesday that would give state-funded, faith-based child welfare agencies a license to discriminate against LGBT people. 
GOP Rep. Scott Sanford (shown above with Sen. Ted Cruz) says his amendment is designed to protect adoption agencies like Catholic Charities, which has chosen to shut down rather than comply with nondiscrimination laws requiring them to serve same-sex couples in other states. 
Sanford's so-called "religious freedom" measure began as a bill, but died before a House deadline two weeks ago. Then, he introduced it as an amendment last week, but Democrats used a procedural tactic to block its consideration. Now, it's back for a third time as an amendment to Senate Bill 206, which is on Tuesday's House calendar. 
Of course, it's already legal for adoption agencies to turn away gay couples in Texas, which has no statewide LGBT protections. Major national child welfare groups have come out against Sanford's proposal, which would also run counter to proposed federal legislation, the "Every Child Deserves A Family Act." 
Dan Quinn, a spokesman for the pro-LGBT Texas Freedom Network, said of Sanford's amendment in an email:  
"Rep. Sanford's divisive and disgraceful political agenda has held hostage important legislation reauthorizing a state agency that helps abused and neglected children. He has repeatedly threatened to attach an amendment that would promote discrimination against LGBT families in matters involving foster care, adoption and child welfare placement services. Texas doesn't have enough foster homes, so why turn away qualified and loving families? And Sanford's amendment is so broad that it would authorize child welfare agencies to discriminate against any family that doesn't meet the organization's religious or moral criteria — like interfaith couples or people who belong to a religion that's different than a particular agency's. It's callous and shameful to put politics and discrimination ahead of the interests of vulnerable children."
More from Equality Texas, which is calling on people to contact House members and ask them to oppose the amendment:  
"If enacted into law, the Sanford Amendment would allow child welfare providers to discriminate against not just gay and transgender families, but also against people of other faiths, interfaith couples and anyone else to whom a provider objects for religious reasons.

"The only consideration of a child welfare agency should be the best interest of the child – not proselytizing for a single, narrow religious interpretation."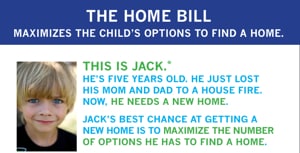 Not surprisingly, the anti-LGBT hate group Texas Values is supporting the amendment, and has created an infographic (right) suggesting that it would somehow help a 5-year-old whose parents were killed in a fire find a home:   
"In Texas, a large portion of our welfare providers, foster homes and adoption agencies are faith-based organizations. In other states, overbearing governments have essentially forced some faith-based organizations to close or stop services due to the organizations' stance on Biblical marriage. This amendment would help ensure this does not happen in Texas."
The Texas House convenes at 10 a.m. Central time and likely will go until midnight because it's the last day for the chamber to consider contested bills from the Senate. With less than a week remaining in the legislative session, only one of the 20-plus anti-LGBT proposals introduced in Texas this year has passed. But Equality Texas ultimately withdrew its opposition to that bill, the so-called Pastor Protection Act, and two openly LGBT state representatives voted for it.  
Watch the House proceedings live here.