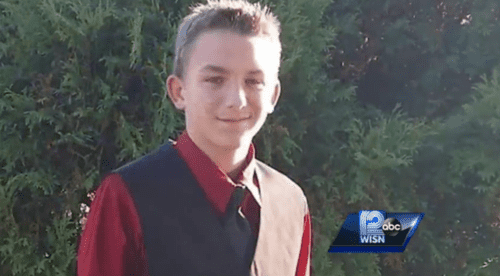 Cameron Langrell, a 15-year-old freshman from Racine, Wisconsin committed suicide last week days after coming out as transgender on Facebook.
Cameron's parents believe bullying at school was a contributing factor in the suicide.
The Racine Journal Times has more on the tragedy (note: male-pronouns are used to refer to Cameron):
Last Thursday his mother, Jamie Olender, and stepfather, Eric Olender, came home shocked to find that Cameron had taken his own life in the basement sometime that day.
"There were absolutely zero warning signs," Jamie Olender said. "He busted out all the lights and his intent was clear."
He loved to play piano. He also loved dance. Singing was his passion and next year he was set to join the school choir. He would have loved being a high school cheerleader. He wanted to try out for "American Idol."
"He was always bullied for being feminine," Jamie Olender said. "We told him to be who you are."
Cameron's parents knew their child was unique since he was a toddler. "Ever since he was very little, we knew Cameron felt differently," she said. "He used to dance, twirl, sing and was all about that kind of attention. His brother would be in a football game and he would try to get people to notice his dance routine."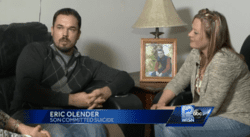 WISN 12 adds Jamie and Eric (right) want the school district to do more to combat bullying. "There needs to be more within the school, not just some outside resource. It needs to be taught in school," Jamie said.
A spokeswoman for the district released the following statement: "We are heartbroken by the loss of Cameron. Our district crisis team has stepped up to provide support for all of our Horlick students, staff and families these past several days. We have programs in place to ensure all students have a positive place to learn.
We will continue to work with our entire Horlick family to enhance these programs."
A GoFundMe page has been set up to help with financial burdens on Cameron's family.