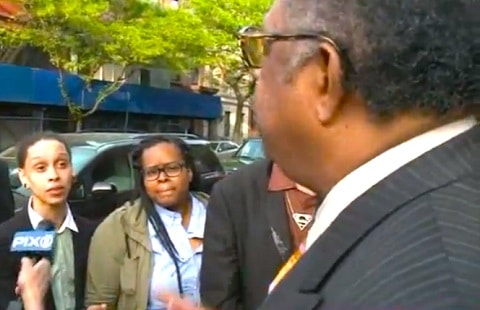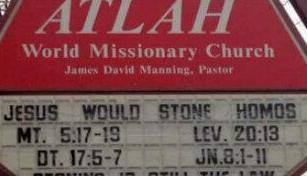 Local residents have confronted anti-gay Pastor James David Manning for the vile homophobic billboards outside his church in Harlem, New York, reports Raw Story.
Manning is known for posting notorious signs outside the ATLAH World Missionary Church including "Jesus Would Stone Homos" and "all churches and members that support homos cursed be thou with cancer, HIV, syphilis, stroke, and madness."
In a confrontation with local woman Sharifa Ferryman, Manning told her:
"You are going to hell for your insidious and wicked lifestyle. It's a disgrace that you would stand here and confess that you have a relationship with another woman. It's a disgrace before God."
Ferryman said that she avoids walking past the church "because it's so hurtful to hold my wife's hand and these words every time I pass by."
Another neighbor told Manning – who has admitted to suppressing "homosexual urgings" – that his signs are "clearly hate speech…inciting violence."
A local man said his two children see signs warning against "homo demons" who are "looking for some dark meat" and spreading sexually transmitted disease.
However, Manning retorted that he has a right to post his offensive messages because "this is still America and we have freedom speech." He also insisted that his comments were not hate speech.
https://www.youtube.com/watch?v=TeiuhDVWHyw