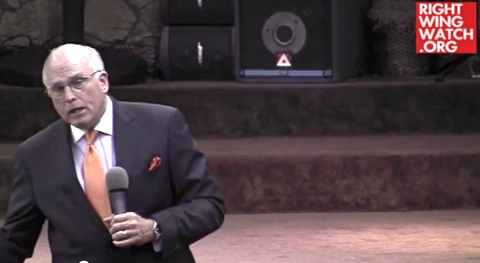 Comparing themselves to Dr. Martin Luther King Jr., a group of anti-gay bigots is pledging to go to prison rather than comply with a U.S. Supreme Court ruling in favor of nationwide marriage equality.
They are led by the likes of Texas Pastor Rick Scarborough (above), who's shopping a pledge that's purportedly been signed by 45,000 people. From News Radio 1200 WOAI:
With the U.S. Supreme Court expected to rule in the coming weeks that same sex marriage is legal, many Christian evangelicals say they will refuse to obey the new law, and are prepared to go to prison if necessary, News Radio 1200 WOAI reports.

"However the law is changed, I will do what I have always done," he said.  "I will continue to preach that homosexuality is a sinful life style."

Scarborough says some 40,000 pastors and church leaders have signed a petition at www.defendmarriage.org.  He says those who signed the petition will 'resist all government efforts to require them to accept gay marriage, and they will accept any fine and jail time to protect their religious freedom and the freedom of others.'
The group behind the petition, defendmarriage.org, took out a full-page ad recently in The Washington Post (right). "Key signers" of the pledge include GOP presidential candidates Mike Huckabee and Rick Santorum, as well as a who's who of anti-gay pastors and hate group leaders from across the country.
From the pledge:
beeThe Supreme Court was wrong when it denied Dred Scott his rights and said, "blacks are inferior human beings." And the Court was wrong when Justice Oliver Wendell Holmes wrote in Buck v. Bell, "three generations of imbeciles are enough," thus upholding Virginia's eugenics law that permitted forced sterilization. Shamefully, that decision was cited during the Nuremburg trials to support the Nazi eugenic holocaust.

In these earlier cases, the definition of "human" was at issue. Now the definition of "marriage" is at issue. The Constitution does not grant a right to redefine marriage — which is nonsensical since marriage intrinsically involves a man and a woman. Nor does the Constitution prohibit states from affirming the natural created order of male and female joined together in marriage.

We will view any decision by the Supreme Court or any court the same way history views the Dred Scott and Buck v. Bell decisions. Our highest respect for the rule of law requires that we not respect an unjust law that directly conflicts with higher law. A decision purporting to redefine marriage flies in the face of the Constitution and is contrary to the natural created order. As people of faith we pledge obedience to our Creator when the State directly conflicts with higher law. We respectfully warn the Supreme Court not to cross this line.
Back in March, Scarborough said members of Congress were "lining up" to sign the pledge. However, none is listed among the key signers.
So, perhaps we should also take Scarborough's vow of going to prison with a grain of salt, particularly since it will remain perfectly legal for him to spew hate from his pulpit.
Take a closer look at the group's ad from The Washington Post, AFTER THE JUMP…
---