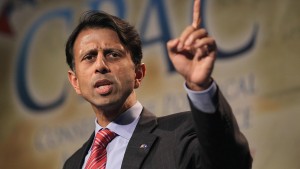 Louisiana Gov. Bobby Jindal, the man who once chastised the GOP for being the "stupid party," is proving he might just have the chops to lead his "stupid party" to a crushing defeat in the 2016 elections, if his reaction to today's gay marriage ruling is any indication on how his candidacy will play out.
The Times-Picayune reports:
The Jindal administration has said Louisiana's state government won't recognize gay marriage until a lower court rules on the issue.  The 5th U.S. Circuit Court of Appeals has taken up a gay marriage case, but was waiting on the Supreme Court ruling before moving forward with it. The Jindal administration is now delaying gay marriage in Louisiana until this appeals court decision is issued.
Lawyers said the delay will probably only last a few days. Attorneys representing seven Louisiana same-sex couples have already filed a motion seeking to enforce the ruling in the state. The appeals court ruling will largely be a formality, now that the Supreme Court has issued an opinion.
Louisiana Attorney General Buddy Caldwell issued the following statement: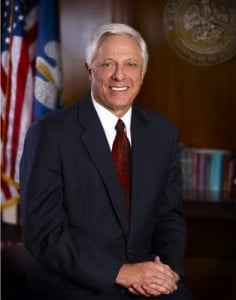 "This Supreme Court decision overturns the will of the people of Louisiana, and it takes away a right that should have been left to the states. Louisiana voters decided overwhelmingly to place in our constitution an amendment that defines marriage as between one man and one woman. I fought to uphold Louisiana's definition of traditional marriage, and I was the first attorney general in the nation to be successful at the federal court level.
"I am extremely disappointed by this decision. It fails to respect traditional marriage as defined by Louisiana voters, and is yet another example of the federal government intrusion into what should be a state issue."