A Virginia state delegate who has supported LGBT causes in the past (but apparently made no effort to understand the distinctions between those four letters), says that he believes gay people should have separate restroom facilities.
Del Joe Preston, a candidate for Virginia State Senate, made the curious remarks in an interview with Metro Weekly: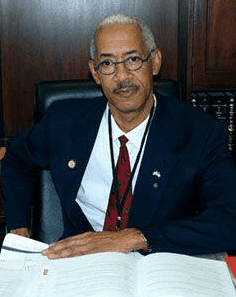 "I'm against people of different genders sharing bathrooms," he said. "I actually think that gay people should have their own restrooms."
Preston elaborated, noting that a straight person might feel uncomfortable using the restroom if they knew the person next to them was gay or lesbian, just as he would feel uncomfortable if he walked into a men's room and saw a female in there. For Preston, the issue is about what makes people comfortable.
"I really think [gay people] ought to have their own restrooms," Preston added. "I can't speak for them, because I'm not part of that community. But I would think they would feel more comfortable."
When re-asked the question as it pertains to transgender schoolchildren, Preston still opposed mixing genders, regardless of whether a person identifies as a gender different from their birth sex.
"At some point, their genitalia have to dictate who they are," he said.
Preston has previously supported efforts to fight anti-LGBT discrimination in the workplace. He is also opposed to "ex-gay" conversion therapy but believes it should be available to individuals who want it.
"It is hard to believe that in 2015 anybody running for state office would suggest that gay people should be using a separate bathroom," said James Parrish, executive director of Equality Virginia.