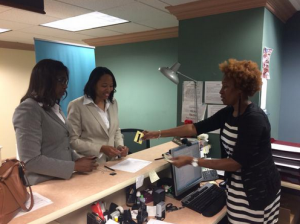 Georgia can count itself among the states that are gracefully accepting the Supreme Court decision Obergefell v. Hodges (cough, cough).
While Georgia Attorney General Sam Olens had previously petitioned to let Georgia's vote against marriage stand, the AG has come forward with a statement affirming that the Peach State will honor the Supreme Court's ruling. Via AJC, Olens said:
Today the Supreme Court of the United States ruled the Constitution requires a state to license a marriage between two people of the same sex and to recognize a marriage between two people of the same sex when their marriage was lawfully licensed and performed out of state.  It does not permit bans on same-sex marriage. In our system of government, the Supreme Court bears the ultimate responsibility for determining the constitutionality of our laws. Once the Supreme Court has ruled, its Order is the law of the land. As such, Georgia will follow the law and adhere to the ruling of the Court.
Via Twitter, Georgia's governor made a similar statement:
The state of Georgia is subject to the laws of the United States, and we will follow them.

— Governor Nathan Deal (@GovernorDeal) June 26, 2015
Georgia is now quickly moving toward accordance with the court decision, revising marriage licenses for use and more — check out details over at AJC.
[Photo via Twitter]