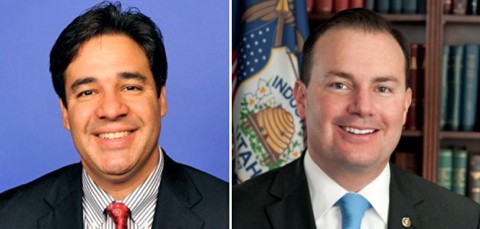 Rep. Raul Labrador (R-Idaho), left, and Sen. Mike Lee (R-Utah) this week introduced the so-called "First Amendment Defense Act," which would give federal employees and contractors a right to sue the federal government based on their opposition to same-sex marriage.
The anti-LGBT, license-to-discriminate measure is similar to the "Marriage and Religious Freedom Act," which died in 2013.
From the Human Rights Campaign:
The legislation would prohibit any adverse action by the federal government against an individual or organization for discriminatory actions against legally married same-sex couples as long as they claim they are acting in accordance with their religious beliefs. "Adverse action" is broadly defined to include the denial or revocation of a federal tax status or deduction; denial of a federal grant, contract, loan, benefit or employment; or any other act of discrimination. The bill provides individuals and organizations the right to sue the federal government for monetary damages in federal court.

If passed, this legislation would create a breakdown of government services and runaway litigation.  It would permit a federal employee, for example, to refuse to process tax returns, visa applications or Social Security checks whenever a same-sex couple's paperwork appears on his or her desk.  This legislation would also permit recipients of federal grants and contracts, including those for social services programs like homeless shelters and substance abuse treatment programs, to turn away LGBT people.  It allows any of these individuals or groups, or anyone else who believes they have been somehow required by the federal government to approve of married same-sex couples, to file a lawsuit and potentially receive damages from taxpayer money.
From Labrador's press release about the bill:
"Religious freedom is at the heart of what it means to be an American," Labrador said. "America set the standard for upholding freedom of belief and worship in a diverse society. No American should ever doubt these protections enshrined in the First Amendment.

"Our bill ensures that the federal government does not penalize Americans for following their religious beliefs or moral convictions on traditional marriage. Our bill shields against federal intrusion without taking anything away from anyone. In a shifting landscape, it's time that Congress proactively defend this sacred right."

Said Sen. Lee: "There's a reason the right to religious liberty appears first in our nation's Bill of Rights. The freedom to live and to act in accordance with the dictates of one's conscience and religious convictions is integral to human flourishing, serving as the foundation upon which America has produced the most diverse, tolerant, and stable society the world has ever known. The vast majority of Americans today still hold a robust view of religious liberty, yet across the country the right of conscience is threatened by state and local governments that coerce, intimidate, and penalize individuals, associations, and businesses who believe that marriage is a union between a man and a woman. The First Amendment Defense Act is necessary to ensure that this kind of government excess never occurs at the federal level."
The bill has 57 co-sponsors in the House, including Illinois Democrat Daniel Lipinski. It has 18 co-sponsors in the Senate, all Republicans.
The "First Amendment Defense Act" is backed by anti-LGBT hate groups including the National Organization for Marriage, which is asking presidential candidates to endorse the legislation as part of its anti-gay pledge.