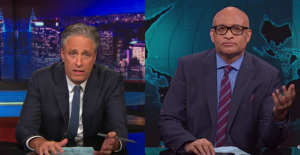 Comedy Central took on a decidedly somber tone last night as both Jon Stewart and Larry Wilmore addressed the horrific, racially-motivated mass shooting at a Charleston church on Wednesday.
Said Stewart:
"I honestly have nothing other than just sadness once again that we have to peer into the abyss of the depraved violence that we do to each other in the nexus of a just gaping racial wound that will not heal yet we pretend doesn't exist."
He continued:
"In South Carolina, the roads that black people drive on are named for Confederate generals who fought to keep black people from driving freely on that road. That's insanity. That's racial wallpaper."
Wilmore also began his opening monologue saying it was a "different kind of day" before turning his anger towards Fox News' coverage of the tragedy.
"We talk about race a lot on the show, but I think we can all agree this time that this is a racially motivated attack. But also it couldn't be clearer when it comes out of the killer's mouth," said Wilmore. "But even with all that evidence and on a day like today, Fox News just makes my f–king head explode."