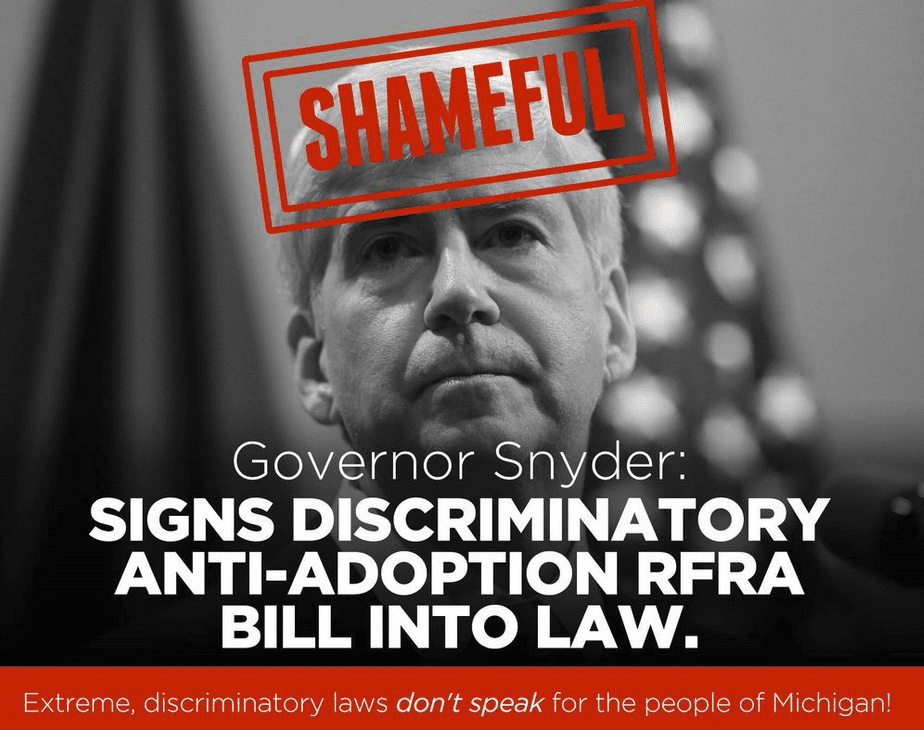 [via NCLR Twitter]
LGBT groups have come out strongly against new laws in Michigan and North Carolina that promote anti-LGBT discrimination under the guise of "religious freedom."
In Michigan, Gov. Rick Snyder signed three bills into law allowing adoption agencies to use their religious beliefs to refuse to work with same-sex couples. In North Carolina, meanwhile, the state House voted today to override Gov. Pat McCrory's veto of a bill allowing public officials to opt out of marrying same-sex couples for "sincerely held religious" objections.
Lambda Legal, called these measures "in some ways worse than what happened in Indiana because Michigan and North Carolina will be using tax dollars to support such discrimination. Good public policy helps people—it shouldn't hurt them."
Via press release:
"Today was a discouraging day for equality and justice. Michigan today enacted a law that allows state-funded adoption and foster care agencies to turn people away on religious grounds, and North Carolina enacted a law allowing government magistrates to refuse to perform civil marriage ceremonies for couples whose union they object to on religious grounds. For anyone with delusions that the work for LGBT rights is close to being done, think again. These laws will be used to deny loving homes to Michigan children in need and to subject same-sex couples to the indignity of being turned away by government-funded agencies in Michigan and by government officials in North Carolina. That that discrimination is based on religion is no excuse.  Discrimination inspired by religious views is still discrimination.
HRC also condemned the legislation in both states.
"It is tremendously disappointing that the legislature chose to override Governor McCrory's veto of this misguided and mean-spirited legislation," said Marty Rouse, National Field Director for the Human Rights Campaign
in a statement
 on the North Carolina bill. "Allowing public officials the ability to opt-out of the job they are paid by the public to do is completely contrary to the purpose of public service and should have no place in North Carolina law."
"Governor Rick Snyder has proven today that he has utter disdain for the welfare of children in Michigan and that he cares only about empowering backwards discrimination," said HRC President Chad Griffin
in a statement
reacting to the three anti-LGBT adoption bills. "This legislation keeps children in need out of the loving homes they deserve, and it sets this great state back decades."