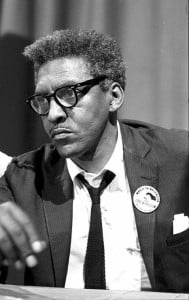 Martin Luther King III will pay tribute to gay civil rights hero Bayard Rustin at the second annual Logo Trailblazer Honors this Saturday. Rustin's surviving partner Walter Naegle will accept the award on his behalf.
"Bayard Rustin was a champion," said King in a statement provided to Towleroad by Logo. "Not just a champion of the LGBT community, but a champion of the civil rights movement and humanity itself. Prejudice may have scratched his name from the history books, but during the Trailblazer Honors we will come together to remember the legacy he left behind. As many fail to realize, Bayard Rustin was a vital strategist, advisor, and more than anything, a brother to my father. I am proud to stand with Logo to present this award, and beyond honored to celebrate a man as exceptionally heroic as Bayard Rustin."
Added Stephen Friedman, President of MTV and Logo: "Bayard Rustin is an American hero who deserves to be acknowledged alongside the titans of the Civil Rights Era, yet he unjustly fell victim to the same homophobia and racism that he spent his life fighting against. We are so proud to partner with Martin Luther King III to honor Bayard's legacy and bring his groundbreaking life's work to a new generation."
Rustin organized the 1963 March on Washington for Jobs and Freedom and co-organized the Southern Christian Leadership Conference with Dr. Martin Luther King, Jr. He posthumously received the Presidential Medal of Freedom back in 2013.
You can watch Milk screenwriter Dustin Lance Black speak on Rustin's legacy in the video below and for more information on the Trailblazer Honors click here.