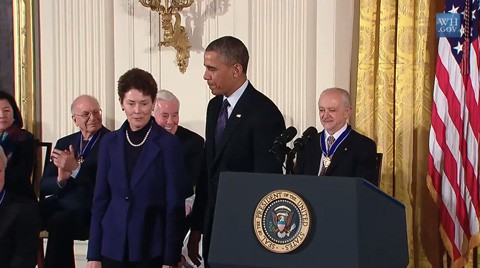 President Obama awarded the Presidential Medal of Freedom, the nation's highest civilian honor, to 16 people, including two gay people, both posthumously: Bayard Rustin and Sally Ride.
Also receiving the honor: Ernie Banks, Ben Bradlee, Bill Clinton, Daniel Inouye, Daniel Kahneman, Richard Lugar, Loretta Lynn, Mario Molina, Arturo Sandoval, Dean Smith, Gloria Steinem, Cordy Tindell "C.T." Vivian, Patricia Wald, and Oprah Winfrey.
Watch the full ceremony, AFTER THE JUMP…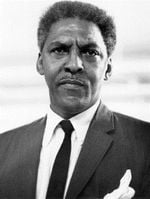 Obama's remarks about Rustin (via transcript)
Now, early in the morning the day of the March on Washington, the National Mall was far from full and some in the press were beginning to wonder if the event would be a failure.  But the march's chief organizer, Bayard Rustin, didn't panic.  As the story goes, he looked down at a piece of paper, looked back up, and reassured reporters that everything was right on schedule.  The only thing those reporters didn't know was that the paper he was holding was blank.  (Laughter.)  He didn't know how it was going to work out, but Bayard had an unshakable optimism, nerves of steel, and, most importantly, a faith that if the cause is just and people are organized, nothing can stand in our way. 
So, for decades, this great leader, often at Dr. King's side, was denied his rightful place in history because he was openly gay.  No medal can change that, but today, we honor Bayard Rustin's memory by taking our place in his march towards true equality, no matter who we are or who we love.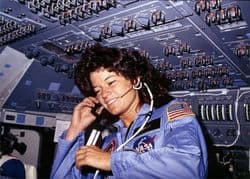 And Sally Ride:
We salute innovators who pushed the limits of science, changing how we see the world — and ourselves.  And growing up, Sally Ride read about the space program in the newspaper almost every day, and she thought this was "the coolest thing around."  When she was a PhD candidate at Stanford she saw an ad for astronauts in the student newspaper and she seized the opportunity.  As the first American woman in space, Sally didn't just break the stratospheric glass ceiling, she blasted through it.  And when she came back to Earth, she devoted her life to helping girls excel in fields like math, science and engineering.  "Young girls need to see role models," she said, "you can't be what you can't see."  Today, our daughters — including Malia and Sasha — can set their sights a little bit higher because Sally Ride showed them the way.
A military aide later spoke about them again as their partners accepted:
Tam O'Shaughnessy (top photo) accepting on behalf of her life partner, Dr. Sally K. Ride.  (Applause.)  Thirty years ago, Dr. Sally K. Ride soared into space as the youngest American and first woman to wear the Stars and Stripes above Earth's atmosphere.  As an astronaut, she sought to keep America at the forefront of space exploration.  As a role model, she fought tirelessly to inspire young people — especially girls — to become scientifically literate and to pursue careers in science, technology, engineering, and math.  At the end of her life, she became an inspiration for those battling pancreatic cancer, and for the lesbian, gay, bisexual, and transgender community.  The tale of a quiet hero, Sally Ride's story demonstrates that the sky is no limit for those who dream of reaching for the stars.  (Applause.)
Walter Naegle accepting on behalf of his partner, Bayard Rustin.  (Applause.)  Bayard Rustin was a giant in the American Civil Rights Movement.  Openly gay at a time when many had to hide who they loved, his unwavering belief that we are all equal members of a "single human family" took him from his first Freedom Ride to the lesbian, gay, bisexual, and transgender rights movement.  Thanks to his unparalleled skills as an organizer, progress that once seemed impossible appears, in retrospect, to have been inevitable.  Fifty years after the March on Washington he organized, America honors Bayard Rustin as one of its greatest architects for social change and a fearless advocate for its most vulnerable citizens.  (Applause.) 
Watch the full ceremony, AFTER THE JUMP…
If individual clips become available, I'll add them below.