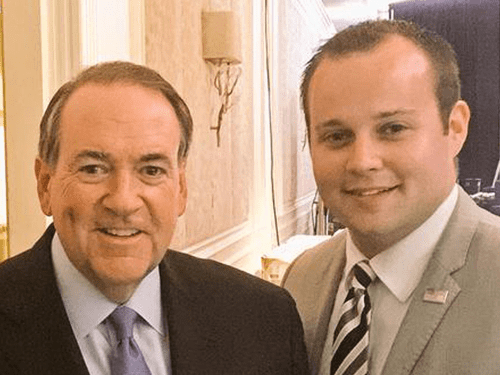 Mike Huckabee's touted endorsement by the Duggar family has been scrubbed from his presidential campaign website, Talking Points Memo reports:
The Duggar endorsements enjoyed top billing on the campaign site's "I Like Mike" sidebar on May 22, the day Huckabee issued a full-throated defense of the family following the publication of a 2006 police report that showed the Duggar's eldest son, Josh, was investigated for molesting five underage girls when he was a teenager. Parents Jim Bob and Michelle Duggar said that four of the victims were Josh's sisters, while the fifth was a babysitter, during an interview with Fox News' Megyn Kelly that aired Wednesday night.
Wrote Huckabee in the wake of the Duggar molestation scandal:
Janet and I want to affirm our support for the Duggar family. Josh's actions when he was an underage teen are as he described them himself, 'inexcusable,' but that doesn't mean 'unforgivable.' He and his family dealt with it and were honest and open about it with the victims and the authorities. No purpose whatsoever is served by those who are now trying to discredit Josh or his family by sensationalizing the story. Good people make mistakes and do regrettable and even disgusting things. The reason that the law protects disclosure of many actions on the part of a minor is that the society has traditionally understood something that today's blood-thirsty media does not understand—that being a minor means that one's judgement is not mature. No one needs to defend Josh's actions as a teenager, but the fact that he confessed his sins to those he harmed, sought help, and has gone forward to live a responsible and circumspect life as an adult is testament to his family's authenticity and humility.
Earlier this week, we reported Huckabee told a crowd at the National Religious Broadcasters Convention that he wished he could have pretended to be transgender in high school so he could have "showered with the girls."
Huckabee and the Duggar clan – the real threats to children.