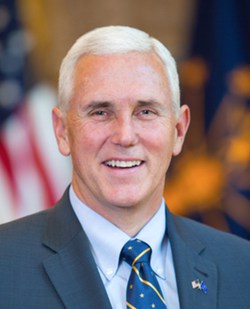 Indiana Governor Mike Pence has just issued his first LGBT Pride proclamation welcoming residents and visitors to Indianapolis' Pride Celebrations taking place this month. Yet Pence oddly failed to make any mention of LGBT people, sexuality or gender identity in the letter. As Bil Browning of The Bilerico Project notes, "The words 'gay,' 'lesbian,' 'bisexual,' or 'transgender' aren't included anywhere."
The letter reads:
Greetings,
On behalf of the people of Indiana, welcome to Indianapolis. I am confident that those of you who traveled from out of state will come to know our famous Hoosier Hospitality.
Our state's capital city is well known as a destination for conventions, festivals, business meetings and other events. In fact, a recent USA TODAY Reader's Choice digital poll ranked Indianapolis as the Best Convention City in the country.
Like so many other organizations who continue to use Indianapolis as their destination of choice, I am confident you will come to know a vibrant city.
During your stay, please explore the many entertainment options Indianapolis has to offer such as our museums, restaurants, theaters, historic landmarks, White River State Park, and the Indianapolis Zoo, just to name a few.
So, once again, welcome to Indiana. We hope you enjoy your stay.
Pence's failure should perhaps not be surprising given that he was behind "the most dangerous anti-LGBTQ law in the country" enacted earlier this year. Yet his very blatant erasure of anything LGBT from his Pride proclamation is made even more stunning when compared to Pride proclamations from past Republican governors as The New Civil Rights Movement notes:
In 2005, GOP Governor Mitch Daniels' Pride celebration letter began "Dear Friends," not, "Greetings."
"This celebration seeks to foster understanding and acceptance of individuals without regard to gender, gender identity, race, religion, ethnicity, sexual orientation, or any of the differences that too often divide us, in a state that urgently needs to confront its challenges with urgency of purpose," Daniels wrote.
And that was a decade ago.