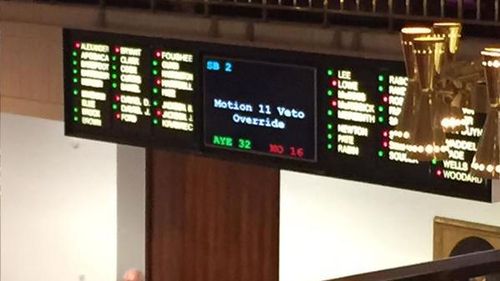 (Photo via #SocialMedia NC)
On Monday North Carolina state lawmakers voted to override Governor Pat McCrory's veto of a bill that would allow some public officials to opt out of having to perform same-sex marriages. Proponents of the bill in the North Carolina Senate amassed the necessary three-fifths majority to override the veto, now sending the legislation to the state's Republican-led House of Representatives.
North Carolina Public Radio reports:
"If someone takes a job, they do not park their First Amendment rights at the door, and they are entitled to continue to exercise those rights," [author of the bill and Senate Leader Phil] Berger said.
Bill supporters say all gay couples will still be able to get married because it would require the chief District Court judge in each county to arrange for marriage service for at least 10 hours over three days every week. But Democratic critics say it legalizes discrimination because it opens the possibility for a straight couple to receive service and a gay couple to be turned away.
In his veto message, McCrory told lawmakers that his "sincerely held" religious belief is that a marriage is an union between a man and a woman.
"However, we are a nation and a state of laws," McCrory wrote. "Whether it is the president, governor, mayor, a law enforcement officer, or magistrate, no public official who voluntarily swears to support and defend the constitution and to discharge all duties of their office should be exempt from upholding that oath."
The bill will be debated by the House on Wednesday. It previously passed the chamber by a vote of 67 to 43, a margin that if replicated would be wide enough to override the Governor's veto. However, 10 members of the House were absent at that vote and it is unclear at this time how those members will vote. However it does seem certain that, if passed, the bill will be challenged in court:
Luke Largess, a Charlotte-based attorney who challenged North Carolina's 2012 constitutional amendment that defined a marriage as a union between a man and a woman, said the law would demean certain segments of the population.
"If this bill becomes law, it will invite a new round of court challenges," Largess said.
Watch a news report on the Senate's override, AFTER THE JUMP…