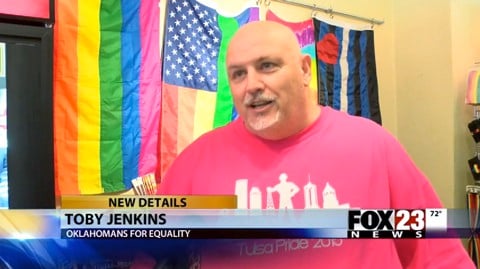 Earlier this year, Oklahoma lawmakers considered doing away with all marriage licenses to avoid issuing them to same-sex couples. 
Now, the state's Department of Corrections has halted all prison weddings — apparently to avoid having inmates enter same-sex marriages. 
The department says it's waiting for the U.S. Supreme Court to rule on same-sex marriage later this month. But same-sex marriage has been legal in Oklahoma since October. 
The Oklahoman reports: 
If the high court rules in favor of gay marriage, corrections officials will alter department policy to allow an offender to marry someone of the same sex, spokeswoman Terri Watkins said.

"If same-sex marriages are ruled legal, then the policy will need to be changed. We will follow the law," she said. … 

The temporary halt drew criticism from Ryan Kiesel, director of the American Civil Liberties Union of Oklahoma, who said a state agency should be following the law as it stands now, not waiting to see if the law changes.

"To hit the pause button on marriages performed in prison is completely at odds with what the state of Oklahoma is obligated to do," he said. "There is simply no justification for what DOC is doing."
The DOC says it has no pending requests from inmates seeking to enter same-sex marriages. The current policy prohibits inmates from marrying each other, regardless of sex. The department normally allows inmates to get married two days a year. More from Fox23.com:   
Toby Jenkins with Oklahomans for Equality is calling the new policy unlawful. He says same-sex marriage is already legal in Oklahoma and all marriages, including the marriages of opposite gender couples, should resume immediately.

"It's already legal in 36 states, the Supreme Court is trying to decide if it should be legal in the other 20," Jenkins said. "Marriage equality is already the law of the land- from the panhandle to the Kansas border to the Texas border to the Arkansas border."
Watch Fox 23's report, AFTER THE JUMP …