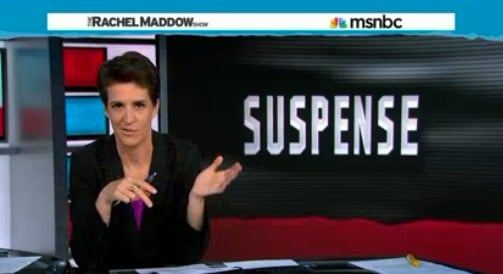 On Monday Night, Rachel Maddow discussed the Supreme Court's latest round of decisions, released yesterday, which notably did not include a ruling on Obamacare or same-sex marriage.
And though we are still waiting for SCOTUS to rule on same-sex marriage, Rachel points out that many, particularly those ardently in favor of same-sex marriage, are already predicting how the Court will rule.
So many, in fact, it has begun to feel inevitable that the Court will side with marriage equality. Legal experts agree this is the most likely outcome. And yet, Rachel can't help but wonder, "Is it not a little spooky that so much of the country is basically already assuming how the same-sex marriage case is going to go?" After all, "a sense of inevitability can be a powerful thing, it can also be a dangerous thing," a point Rachel has made before. The fact that the question of nationwide same-sex marriage is at the Court at all suggests there might be a chink in the armor of same-sex marriage's inevitability:
"The reason this case is being decided by the Supreme Court in the first place is that the seemingly inevitable unstoppable march towards nationwide legal gay marriage was in fact stopped when an appeal court ruled last fall that some state marriage bans were legal. It was all inevitable until one day it was not. The Supreme Court could really rule against gay marriage, or the justices could split the different somehow or the Court could, yes, legalize gay marriage nationwide…But we really do not know right now."
Rachel dug further into the impending ruling with her guest Dahlia Lithwick, a senior editor at Slate.
Watch the discussion of all things SCOTUS and same-sex marriage, which begins at the 34:30 mark, below:
https://youtu.be/Q88_9gU4mRc?t=34m56s