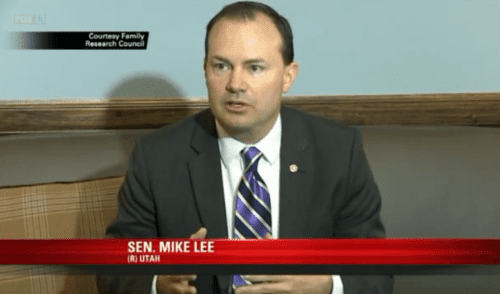 Bracing for a potential pro-equality Supreme Court ruling this month, Sen. Mike Lee (R-UT) has reintroduced the 'Marriage and Religious Freedom Act' which would "protect freedom of conscience for those who believe marriage is the union of one man and one woman."
The "license to discriminate" proposal would effectively allow organizations to refuse service or products to gay couples simply by citing religious beliefs.
Salt Lake City's Fox 13 reports:
"If the government recognizes a right to same-sex marriage, you could at some point have a move by the government, a move perhaps by the IRS, to remove the tax exempt status of any religiously affiliated educational institution," Lee said in a meeting with leaders of conservative Christian groups.
Troy Williams, executive director of Equality Utah, says Lee is fighting an unnecessary battle.
"We have clearly defined religious liberty in America, and the rights of religions are not going to be trampled on when loving, committed, same-sex couples have the freedom to marry who they love," Williams said.
Watch a Fox 13 report, AFTER THE JUMP…