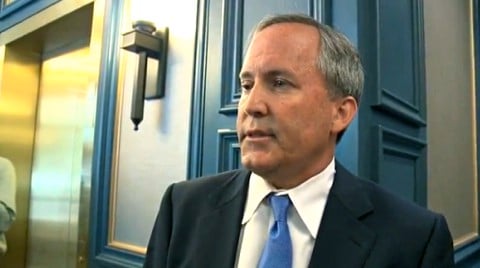 Texas Attorney General Ken Paxton is encouraging county clerks, judges and justices of the peace with religious objections to same-sex marriage to refuse services to gay couples in the face of what he called a "lawless" U.S. Supreme Court ruling in favor of same-sex marriage.
In a response to a request from Lt. Gov. Dan Patrick, Paxton issued an opinion Sunday about whether government officials can refuse to issue same-sex marriage licenses or conduct same-sex marriage ceremonies if doing so would violate their sincerely held religious beliefs.
Paxton's opinion concludes that clerks, judges and justices of the peace "may" be protected against participating in same-sex marriages, but adds that "the strength of any such claim depends on the particular facts of each case."
From a press release accompanying the opinion:
"Friday, the United States Supreme Court again ignored the text and spirit of the Constitution to manufacture a right that simply does not exist," Paxton said in a press release accompanying the opinion. "In so doing, the Court weakened itself and weakened the rule of law, but did nothing to weaken our resolve to protect religious liberty and return to democratic self-government in the face of judicial activists attempting to tell us how to live.

"Indeed, for those who respect the rule of law, this lawless ruling presents a fundamental dilemma: A ruling by the U.S. Supreme Court is considered the law of the land, but a judge-made edict that is not based in the law or the Constitution diminishes faith in our system of government and the rule of law. …

"It is important to note that any clerk who wishes to defend their religious objections and who chooses not to issue licenses may well face litigation and/or a fine. But, numerous lawyers stand ready to assist clerks defending their religious beliefs, in many cases on a pro-bono basis, and I will do everything I can from this office to be a public voice for those standing in defense of their rights.

"Texas must speak with one voice against this lawlessness, and act on multiple levels to further protect religious liberties for all Texans, but most immediately do anything we can to help our County Clerks and public officials who now are forced with defending their religious beliefs against the Court's ruling."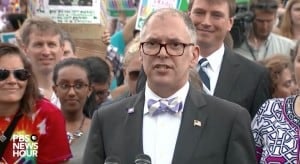 Meanwhile, Supreme Court marriage plantiff Jim Obergefell will be at the Texas Capitol in Austin on Monday for a press conference with Human Rights Campaign President Chad Griffin. From HRC:
Obergefell, whose name and inspirational story will go down in history with other landmark Supreme Court plaintiffs, will be joined by HRC President Chad Griffin, Texas marriage equality plaintiffs Nicole and Cleo DeLeon, and Mark Phariss and Vic Holmes, and speakers from several pro-equality Texas organizations. They will discuss the local effect of the marriage equality ruling, as well as the important work that remains–including the fight for comprehensive non-discrimination protections for LGBT people.
The press conference is at 10 a.m. However, Obergefell and Griffin also reportedly will do an MSNBC interview live outside the Capitol at 9 a.m.
Read Paxton's full opinion below.