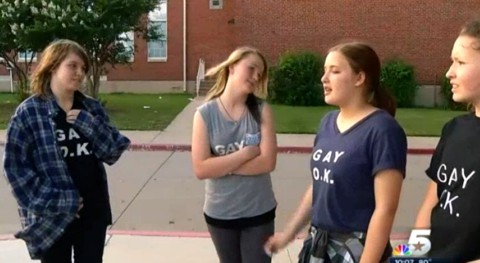 Students at a Texas middle school wanted to show their support for a seventh-grader who got bullied after coming out as gay.  
Instead, they apparently ended up getting bullied themselves — by school administrators. 
At least 15 students at Faubion Middle School in McKinney, an ultraconservative suburb of Dallas, wore "Gay O.K." T-shirts on Wednesday. But school administrators sent two of the students home and forced the others to cover up their shirts or turn them inside out. 
NBCDFW.com reports: 
"Being gay is OK. And it is OK to be open about it," said classmate Anna Thompson, who was one of at least 15 Faubion Middle School students who wore the "Gay O.K." shirts to school.

Thompson told NBC 5 she was approached by an administrator about the shirt almost as soon as she walked in the door Wednesday morning.

"[He] came up to me and said that he doesn't believe this message is school appropriate," Thompson said.
The school district is claiming the T-shirts violated the dress code because they were "disruptive" and "distractive." 
However, it sounds as though the real disruption was created by administrators. When they called students wearing the T-shirts out of the cafeteria during lunch, a protest broke out, and one student reportedly slapped a cell phone out of an administrator's hand. 
School officials reportedly told one of the students not to come back on Thursday, the last day of the school year. Fortunately, they have the support of their parents, one of whom is a teacher in the district.
In case you're wondering, the principal of Faubion Middle School is Patsy Turner, who can be reached at 469-302-6900 or pturner@mckinneyisd.net. And the district superintendent is Rick McDaniel, who's at 469-302-4070 or rmcdaniel@mckinneyisd.net. 
Watch NBCDFW.com's report, AFTER THE JUMP …