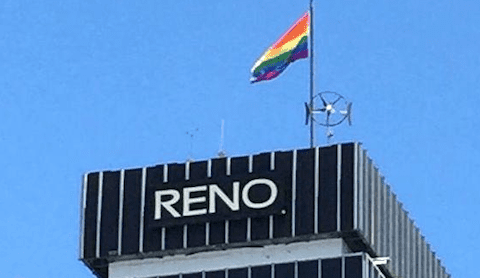 Reno, Nevada Mayor Hillary Schieve apologized Monday morning after the LGBT Pride flag flew in place of the American flag atop Reno City Hall over the weekend reports Reno Gazette-Journal.
Schieve, who participated in Northern Nevada's pride event on Saturday, believed that the gay pride flag would've hung from the front door of city hall instead of on the roof of city hall, with the two flags flying simultaneously. Schieve apologized for the lack of communication within her department:
"I can most certainly see why people would be offended or upset. I did not order that the American flag be taken down. I have asked that the flag be put back immediately.
"It was certainly not the City's intention to be disrespectful, and it never should have happened. I will take full responsibility since I represent this city."
The American flag traditionally flies from the top of Reno's City Hall building and hasn't been replaced by other flags in the past. Schieve spoke with City Manager Andrew Clinger regarding flag codes to prevent similar mistakes from occurring in the future. Schieve's apology also included a statement directed toward U.S. service members:
I did not order the American flag to be taken down over City Hall. My heartfelt apologies. pic.twitter.com/aeSgLMS0Q9

— Mayor HillarySchieve (@MayorSchieve) July 27, 2015
Meanwhile, writer John Nolte of Breitbart.com applauded city hall for taking down the "fascist gay-pride flag."