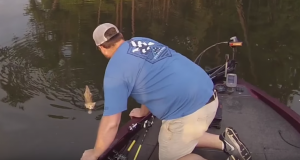 This wins the cutest video of the day award hands down.
"You are not going to believe what is swimming towards our boat," said Jason Frost to the camera while on Warrior River in Alabama with his catfishing bud Brandon Key.
Enter two kittens making a beeline for the boat a la the infamous Jimmy Carter rabbit.
"Never in my life," said Brandon incredulously.