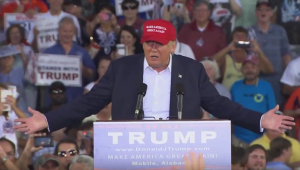 Donald Trump likely won't be giving up his #1 spot anytime soon, as a new Reuters/Ipsos poll shows the billionaire blowhard widening his lead over the rest of the GOP presidential pack.
Reunters reports:
Nearly 32 percent of Republicans surveyed online said they backed Trump, up from 24 percent a week earlier, the opinion poll found. Trump had nearly double the support of his closest competitor, former Florida Governor Jeb Bush, who got 16 percent. Retired neurosurgeon Ben Carson was third at 8 percent.
Even when Trump was pitted directly in the poll against just his top two competitors, 44 percent backed him. Bush won about 29 percent of respondents, and Carson 25 percent.
"He's not taking any guff from anybody," Dewey Stedman, 70, a Republican from East Wenatchee, Washington, said of the publicity-loving billionaire. "If you don't have something in your brains, you're not going to have billions of dollars."
The poll came as Trump held a massive campaign rally in a 40,000 seat stadium in Mobil, Alabama in which he reiterated his plan to build a wall along the Mexican border.
In related news, it looks like Carly Fiorina's post-debate bump in the polls may not be enough to see her join the big kids table at the CNN GOP debate at the Ronald Reagan Presidential Library on September 16.
The Hill reports: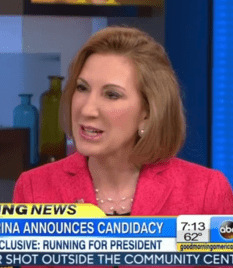 Based on calculations for the 11 qualifying polls that have been conducted since July 16 — two of which were conducted since the Fox News debate — the main debate stage would look the same as it did earlier this month. 
As with the Fox News debate, Govs. John Kasich (Ohio) and Chris Christie (N.J.) are tied for the last two spots, with 3.3 percent. 
At 1.6 percent, Fiorina would need to average 5 percent, her best performance to date, for 11 straight polls to rise above the two governors, as long as their percentages did not rise as well.