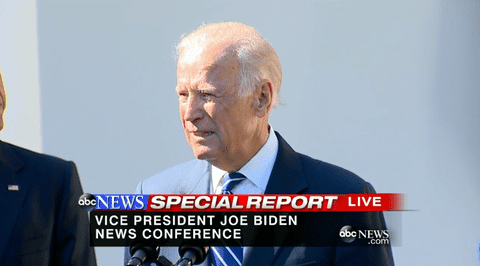 Vice President Joe Biden announced on Wednesday that he would not seek his party's nomination for President.
Biden's announcement was made in The White House Rose Garden. He was accompanied by President Barack Obama and his wife Dr. Jill Biden.
In his remarks, Biden touched on the need to defend the middle class and reiterated his comments made Tuesday at George Washington University that he does not view Republicans as his enemy, making a pointed jab at Hillary Clinton who said during last week's Democratic Debate she was proud to include "the Republicans" among the enemies she has made during her career.
Biden also name-checked fighting for the LGBT community, equality and fairness during his speech.
"As my family and I have worked through the grieving process, I've said all along what I've said time and again to others, that it may very well be that the process by the time we get through it closes the window … I've concluded it has closed," he said.
The decision to stay out of the race comes as Biden is still openly grieving the death of his son Beau Biden from brain cancer earlier this year. His death had been part of the motivation for Biden to run and the source of skepticism regarding the vice president's emotional state.
Joe Biden announces he is not running for president. His chances were never very good https://t.co/rm3HX1yPTA pic.twitter.com/KQaSSedFjQ

— The Economist (@TheEconomist) October 21, 2015
Watch the full speech below:
https://www.youtube.com/watch?v=pFSM5i1hUIU