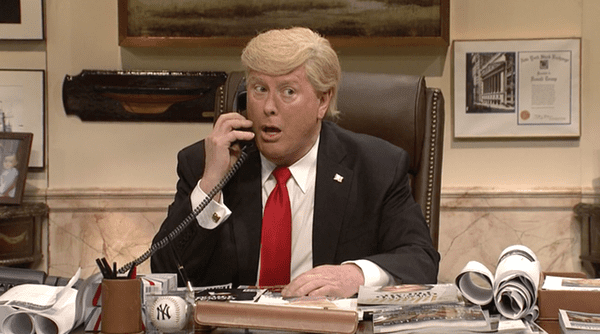 Saturday Night Live took aim at Donald Trump on Saturday, making fun of the presumptive Republican nominee for pretending to be his own publicist known as "John Miller."
In the show's cold open, Trump (played by Darrell Hammond) tried to convince a reporter that he was the inspiration for Iron Man.
Saturday Night Live opened in Trump Tower this week, where Darrell Hammond's Donald Trump was on the phone with a reporter who was having trouble believing he was actually a publicist named Joey Pepperoni. "No, I am not Donald Trump in disguise," he said. "This is just what classy people sound like, OK?"
But then, moving on to more pressing matters, Bobby Moynihan's Chris Christie showed up to help the presumptive Republican nominee pick his running mate. They openly laughed at the idea of Jeb Bush taking the job, and Trump wondered why women look up to Carly Fiorina when she is a "b-cup tops." When Christie proposed a "guy from a swing state, Florida, who's half-Hispanic and has a proven track record of sticking up for himself," Trump replied, "George Zimmerman?"
Later, on Weekend Update, co-hosts Colin Jost and Michael Che each took turns jabbing the phone calls which feature Trump masquerading as John Miller. 
And then they brought out Kate McKinnon who returned to reprise her role as Russian serf Olya Povlatsky to talk about the similarities between Trump and Putin.
Olya Povlatsky, "a woman from a small village in Russia" played by Kate McKinnon, had a few words for the American public when she popped in for the latest edition of SNL "Weekend Update." When asked to comment on Donald Trump's potential to become the next U.S. President, she said, "For years America has made fun of Putin and now you guys have a Putin of your own."
"But really, America, come on," she continued. "You guys have Trump, but you call Putin crazy? This is like pot calling all my toes black. At least our guy is jacked.";
"Weekend Update" cohost Colin Jost also asked Povlatsky about Putin calling Trump a genius, to which she replied, "You know, having Putin call you genius, this is, eh, not compliment. That would be like if my own poop said, 'You know who smells good? Olya.'"
Watch, below.