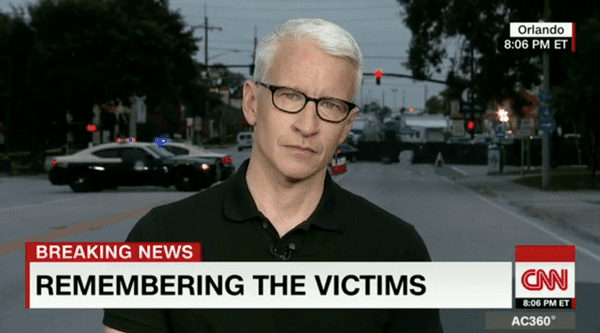 On Monday night, Anderson Cooper started his broadcast by reading the names of those who were brutally gunned down in Orlando, Florida at the gay nightclub Pulse on Sunday.
When possible, Cooper provided photos of the deceased and shared stories about their lives contributed by their friends and loved ones.
Noting that his broadcast would neither display photos nor mention the name of the dead gunman, the CNN anchor emotionally listed the names of those killed in the attack at Pulse nightclub as their names scrolled on the ticker at the bottom of the screen.
"In the next two hours we want to try to keep the focus where we think it belongs, on the people whose lives were cut short," Cooper said.
At several points throughout the segment, which lasted for seven minutes, Cooper was visibly emotional reading the names of the victims. Ever the professional, he soldiered on. "We think it's important that you hear their names," Cooper said.
Watch video of Cooper's emotional tribute, below.
"They are more than a list of names. They are people who loved and who were loved." – @andersoncooper #Orlando https://t.co/DkxxPC1XtW

— Anderson Cooper 360° (@AC360) June 14, 2016