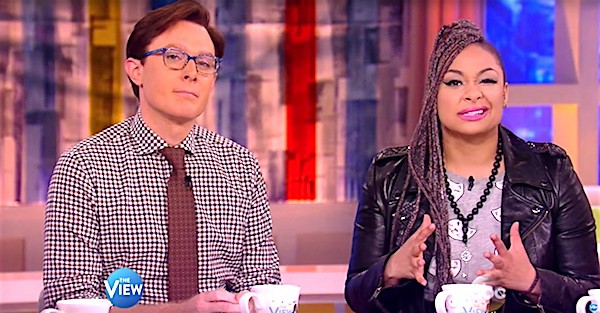 Clay Aiken traveled to North Carolina with Raven-Symoné to ask locals how they felt about the state's controversial HB2 bill. Wednesday, he joined the ladies of The View Tuesday to talk about his experience.
The openly gay American Idol runner-up is no stranger to North Carolina politics. Born in the state's capital Raleigh, Aiken ran for Congress in North Carolina's 2nd congressional district in 2014, but lost to Republican incumbent Renee Ellmers.
Aiken and Symoné went to a diner in Sanford, a city 42 miles south-west of Raleigh, and asked people about North Carolina's "Bathroom Bill." "About 70 percent of the people we spoke to opposed the law saying that transgender people should have the same right as everyone else. But the other 30 percent, however, supported the law, or had concerns about sharing the bathroom with transgender people," said Symoné. She added that most of the people who supported the law refused to talk to them on camera, "but a few were willing to share their views."
They also heard from two transgender people who live in North Carolina and how the law has affected them. Madeline Goss talked to Aiken about her experience using the men's room when she started her transition, while still in high school: "The things that happened to me there were appalling and horrendous." Goss said she was already sad, depressed and feeling suicidal, and people would go out of their way to make her feel "as uncomfortable and unwelcome as they could." Since the bill has passed, she lives in a "climate of fear," and she now has to "worry about something as simple" as going to the bathroom.
Symoné spoke to Skye Thomson, a 15-year-old transgender boy who now avoids using public restrooms altogether. As soon as the bill passed, he wrote a letter to North Carolina Governor Pat McCrory to tell him "it feels horrible to be a minority that people hate on and spit on all the time." He feels "dehumanized."
Aiken asked Goss what she thought about people who called themselves "allies" but had "difficulties understanding and accepting" the transgender bathroom issue: "If you really are an ally, you have to understand that a trans woman is a woman, a trans man is a man and they use the restrooms that corresponds to their gender identity," she said.
"People don't understand there's a difference between sex and gender," she added. "If people understand that sex is your biology, and gender is your brain chemistry and that the two don't always match," the world will be an easier place for transgender people.
Watch clips from the interview below: