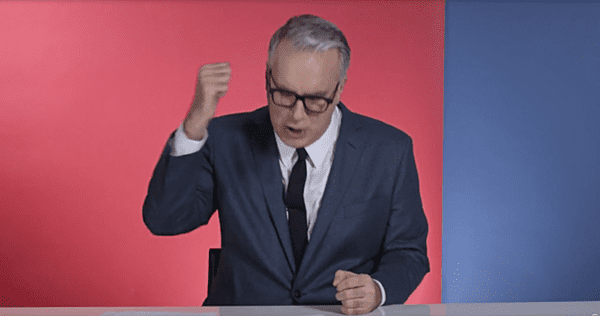 Keith Olbermann called on President Obama to immediately release all relevant information on Russia's hacking of the DNC and RNC and their broader attempt to influence the presidential election.
"We are the victims of a bloodless coup," Olbermann said in the latest episode of his web series The Resistance.
Because of the mounting evidence implicating Russia, Olbermann says we don't have time for the "full review" that President Obama requested last week from the nation's intelligence services. Rather, he insisted Obama must "immediately declassify and release all relevant materials held by the FBI, CIA, DHS, and the other intelligence and security services and in the White House and anywhere else in government" that shed light on Russia's involvement in our electoral process.
Olbermann also called on AG Loretta Lynch to "immediately appoint a special prosecutor to investigate what Donald Trump knew and when he knew it and what, if any, collusive links exist now or existed earlier between the Russian Federation and the Republican National Committee."
"We are already on the precipice of losing the freedom and independence of the nation," Olbermann added. Because of that, President Obama must release the government's intel on Russia so that "we may defend ourselves" and so that electors in the electoral college can
try to "prevent this cataclysm."
Olbermann declared, "There is no time for a full review or a measured analysis or recommendations to prevent future interference in our future elections because permitting Donald Trump to assume the office of president reduces the chance that we will have any future elections."
Trump "is not a president," Olbermann said, "he is a puppet put in power by Vladimir Putin. And those who ignore these elemental existential facts, Democrats or Republicans, are traitors to this country and will be immediately and forever after be held accountable."
Watch, below.