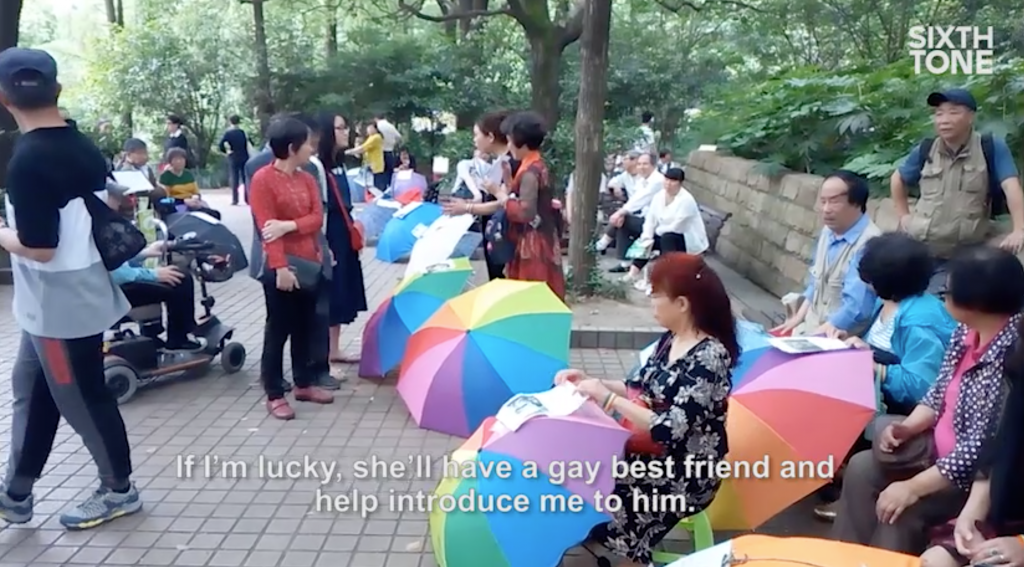 11 mothers seeking partners for their eligible gay sons and daughters were forced out of Shanghai's famous "marriage market" after a confrontation with other parents and the police, Sixth Tone reports.
The mothers, in an event coordinated by PFLAG and Rela, an app for lesbians, was planned to coincide with May 20, known as Lover's Day in China.
Each weekend, parents flock to the "marriage market" in People's Park to find a partner for their children. This Saturday marked the first time that parents with gay children also participated, Sixth Tone reports, and it was met with outrage by other parents.
"What they're doing here is illegal — they're fraudsters," one man said shortly after the women set up their posts, according to Sixth Tone. "LGBT issues shouldn't be a public display. Their choice is wrong and is against Chinese values."
The mothers fought back, however, advocating for their children and calling on the protestors to let their gay children love openly and naturally.
"If parents of straight people can be here, parents of gay people can also be here," one mother from Shenzhen told the angry crowd, Shanghaiist reports. "We have every right to be here — I'm here to find a boyfriend for my son."
The mothers were harassed, a video by Sixth Tone shows, for an hour before the police showed up and forced them out.
You can watch the full video below:
https://www.youtube.com/watch?v=oRNX9pdqspw
The police ousted the mothers on grounds that their actions constituted an "advertisement" because education flyers with logos were also being handed out, Sixth Tone reports. Chinese law dictates that all public events require registration with the police.
James Yang, a program officer with the United Nations Development Program's "Being LGBTI in Asia," project told Sixth Tone that this isn't a new excuse used by the police to disband pro-LGBT events.
Pro-LGBT events are either turned down or canceled at the last minute, Yang said, so oftentimes LGBT groups forgo registering, fearing it would be in vain.