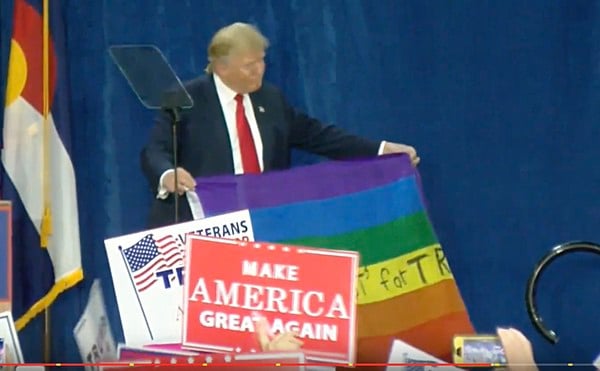 Donald Trump's tweet proposing a ban on transgender individuals serving in the military is set to become policy. The necessary memo, outlining guidelines and directing the Department of Defense to implement the policy are being delivered to Defense Secretary James Mattis.
Officially labeled, "A Guidance Policy for Open Transgender Service Phase Out," the memo, which has not yet been made public, orders the military to encourage transgender service members to retire early, not rehire enlisted transgender personnel as soon as their contracts expire, fire transgender officers who are up for promotion, and decline to take on new transgender enlisted personnel or officers.
Current transgender service members can continue service, but they will no longer have access to transition-related medical care and are more likely to be subject to harassment and discrimination. The guidelines, unsurprisingly, do not include any provision that would safeguard open members from this harassment.
As I argued last month, this policy is unconstitutional and is a direct violation of Title VII, which protects individuals from sex based harassment in the workplace, and the Equal Protection Clause of the Fourteenth Amendment, which guarantees that all persons will be treated equally.
This proposed policy, if implemented using Trump's guidelines, would create a system that treats transgender service members unequally under the guise of "deployability." This means that Defense Department will consider whether transgender persons can serve in a war zone, participate in exercises, live for months on a ship, and won't require medical attention or medication. Because the new policy will discontinue Department of Defense Instruction 1300.28, which allowed transgender service members to transition while serving and allowed them to seek medical coverage for transitioning, it easy to see how very few transgender persons currently serving could qualify as "deployable" under these terms.
There is still zero evidence that medical costs of transgender service members are onerous. There is zero evidence that open service by transgender individuals hurts unit cohesion. There can be only one rationale for Trump's transgender ban: animus. Several courts have held that discrimination based on gender-identity is discrimination based on sex: for example, failure to promote a woman because she acts too masculine, not feminine enough, or not according to traditional gender norms is discrimination that only a woman, because of her biological sex, would face. Such discrimination is "discrimination on the basis of sex." Trump's transgender ban is, therefore, discrimination on the basis of sex.
Advocacy groups like OutServe-SDLN and Lambda Legal are already preparing to file lawsuits challenging any ban on transgender service. Towleroad will keep you posted on these legal developments as they unfold.
*This post was co-written by Maverick James, New York Law School Class of 2019.