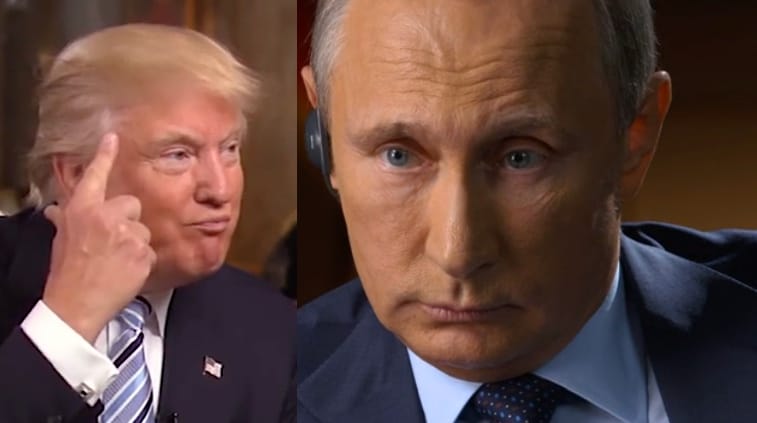 Donald Trump plans to go ahead with a Helsinki summit and private meeting with Vladimir Putin days after 12 Russians were indicted for interfering with the American Democratic election process in which Trump was the ultimate victor.
It's a meeting Trump said would be the "easiest" of his international trip even though he had already been informed (according to the Department of Justice) of the indictments, which charged 12 Russian intelligence officers for conspiring to interfere in the 2016 presidential election and hacking into the Democratic Congressional Campaign Committee, the Democratic National Committee, and Hillary Clinton's presidential campaign.
CNN reports: 'On Friday, White House spokeswoman Lindsay Walters pointed out that there was no allegation in the document unveiled by Deputy Attorney General Rod Rosenstein that any Americans knew they were corresponding with Russians or that any US citizen had committed a crime. She also said there was no indication that the conspiracy had changed the result of the election. "Today's charges include no allegations of knowing involvement by anyone on the campaign and no allegations that the alleged hacking affected the election result. This is consistent with what we have been saying all along," Walters said. There was, however, a glaring absence of any condemnation of Russia's action by Trump, despite the fact that his job primarily involves the defense of American sovereignty and democracy.'
Trump blamed Obama in tweets early Saturday morning: "The stories you heard about the 12 Russians yesterday took place during the Obama Administration, not the Trump Administration. Why didn't they do something about it, especially when it was reported that President Obama was informed by the FBI in September, before the Election?"
https://twitter.com/realDonaldTrump/status/1018074723140427776
He added: "So funny! I just checked out Fake News CNN, for the first time in a long time (they are dying in the ratings), to see if they covered my takedown yesterday of Jim Acosta (actually a nice guy). They didn't! But they did say I already lost in my meeting with Putin. Fake News……….Remember, it was Little Jeff Z and his people, who are told exactly what to say, who said I could not win the election in that "there was no way to 270" (over & over again) in the Electoral College. I got 306! They were sooooo wrong in their election coverage. Still hurting!"
https://twitter.com/realDonaldTrump/status/1018093807060045824
https://twitter.com/realDonaldTrump/status/1018096402520518656
Trump also raised a favored conspiracy theory of the far right, that a 'Deep State' is out to get him: "….Where is the DNC Server, and why didn't the FBI take possession of it? Deep State?"
https://twitter.com/realDonaldTrump/status/1018072081676865536
Meanwhile, House Republicans are accelerating their plans to impeach Deputy Attorney General Rod Rosenstein, Politico reports: "Conservative GOP lawmakers have been plotting to remove Rosenstein for weeks, accusing him of slow-walking their probe of FBI agents they've accused of bias against President Donald Trump. Democrats contend Republicans' fixation on Rosenstein is really an effort to undermine special counsel Robert Mueller, who reports to Rosenstein and has been making inroads in his investigation of the Russian election interference plot. Mueller's probe has entangled members of Trump's inner circle and Trump has increasingly assailed it as a politically motivated 'witch hunt' as it's presented greater danger to him and his allies."
And focus has returned to Trump ally and confidante Roger Stone, the Washington Post reports:
Stone has previously acknowledged exchanging direct messages on Twitter in August and September 2016 with Guccifer 2.0, who claimed to be a Romanian hacker. Stone has said there is no proof the account was connected to the Russians.
But according to criminal charges filed Friday by special counsel Robert S. Mueller III, Guccifer 2.0 was actually operated by a group of Russian military intelligence officers based in Moscow. The Russians used Guccifer 2.0's Twitter account to send multiple messages to "a person who was in regular contact with senior members" of Trump's campaign, Mueller wrote in the indictment.
Stone said that he is probably the unnamed person in the indictment in an interview with CNN's Chris Cuomo on Friday night: