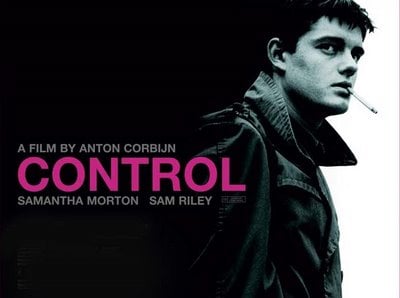 Please welcome Robbie Daw, who will be penning occasional music posts for us here on Towleroad! Robbie runs his own pop music site called Chart Rigger.
Just as seminal U.K. dance act New Order appear to be on the verge of imploding, Control -- rock photographer Anton Corbijn's biopic of doomed Joy Division lead singer Ian Curtis -- is set to be released in the States on October 10 by The Weinstein Company. Manchester-based Joy Division were signed to Factory Records and managed by recently-deceased indie mogul Tony Wilson (whose own life was portrayed in the 2002 film 24 Hour Party People) in the late 1970s. Two of their most well-known songs are "Love Will Tear Us Apart" and "She's Lost Control."
Joy Division unraveled when 23-year-old Curtis, who suffered from epilepsy, committed suicide in 1980 just as the band was about to embark on their first U.S. tour. Remaining members Bernard Sumner, Peter Hook and Stephen Morris carried on, rechristening themselves as New Order.
Control stars relative unkown Sam Riley as Ian Curtis. The film picked up a handful of awards at the Cannes Film Festival in May, and just this past weekend won the best new British feature category at the Edinburgh international film festival.
Here's a trailer that circulated around the time of Cannes (with French subtitles):
The film is based on the book Touching From A Distance, written by Curtis' widow, Deborah.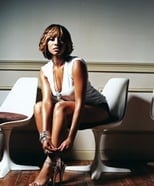 Keri Hilson has written songs for Mary J. Blige, Usher and Britney Spears, and she's currently enjoying a hit with Timbaland's "The Way I Are," on which she performs vocal duties. So, naturally, people really want to know what kind of guys the 24-year-old likes to get with. Here's what Hilson had to say when asked if she likes to "play in the snow" in an interview with King magazine: "I never have. It's a preference. I like chocolate candy, chocolate men, etc." Keri continues: "I don't date industry dudes. I can't say it's not worth trying, but it's not my cup of tea. I like real go-getters and entrepreneurs...but I tell my girlfriends that I'll take a broke good man over an already-rich man. It's so much more important that he's a Christian and has goals."

On the flip side, in a Rolling Stone cover story, Maroon 5 frontman Adam Levine responds to The New York Post dubbing him a "man-whore": "It's funny how they latch on to you. By 'man-whore,' they mean '28-year-old guy who fell into a good situation and had fun.' I was dabbling, hanging out, partying, drinking, giving hugs, doing other things we won't talk about. It was the hedonistic part of my brain. But was I seriously dating anybody who was a famous person? No. It was flattering, but I got credit for a lot of things I didn't do."
After the jump — The Killers, Pet Shop Boys, Dannii Minogue, Billy Corgan, and this week's new releases...
The Killers' third album will be out by year's end, and will consist of B-sides culled from their European singles, two songs from movie soundtracks (Spiderman 3 and Closer) and a new duet with Lou Reed, which is being recorded this week in New York with producers Flood and Alan Moulder. Additionally, singer Brandon Flowers told Billboard the band will be releasing another Christmas single — "Don't Shoot Me, Santa" — for the Red Campaign. He says the one they did last year, "A Great Big Sled," raised over $100,000 for the AIDS charity.
Pet Shop Boys will release Disco 4 on September 24, three days before their one-off show at the Hollywood Bowl in Los Angeles. The Disco series began in 1986 and typically featured remixes of the Boys' own singles as well as new songs. However, the latest disc will mostly be comprised of mixes Neil Tennant and Chris Lowe have done for other artists over the years, including Madonna ("Sorry"), David Bowie ("Hallo Spaceboy"), The Killers ("Read My Mind") and Yoko Ono ("Walking On Thin Ice"). The eight-song set will also contain the previously-unreleased "PSB Perfect Immaculate Mix" of their own track, "Integral."
NEWS BITES: Dannii Minogue lesbian stripper photos resurface. [NSFW]
Kylie Minogue not likely to watch Enrique Iglesias' new video.
Foxy Brown simply does not do public showers…especially at Rikers.
Billy Corgan: "American girls are sluts".
At the eleventh hour, key member of Phil Spector's defense team quits.
Teens prefer Akon and Vanessa Hudgens to Mika and Amy Winehouse.
On the heels of Kanye West's "Stronger," everything's gone Daft Punk.
TODAY'S NEW RELEASES: Beatles' legend Ringo Starr's Photograph: The Digital Greatest Hits.
Ben Harper & The Innocent Criminals' Lifeline, which was recorded over just seven days in Paris.
Bay-area soul singer Ledisi's Lost & Found.
'90s post-grunge band Collective Soul's Afterwords. Though the album is downloadable through iTunes, the CD is only available in Target stores.
Carrie Underwood's new single, "So Small," Dolly Parton's single "Better Get to Livin," and Depeche Mode singer Dave Gahan's single, "Kingdom."