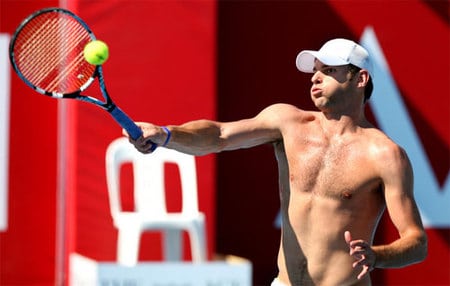 Temperatures have soared this week in Melbourne, where Andy Roddick has cruised into the final to face Marcos Baghdatis of Cyprus today. The blazing temps did provide one benefit for the spectators - plenty to look at.
Roddick, Marat Safin, Rafael Nadal, and a very 70's-looking Brit Andy Murray were on display.
More AFTER THE JUMP...
Recent news from center court…
Martina Navratilova on Gay Men in Tennis [tr]
Tennis #8 Richard Gasquet: Nope, Still Not Gay [tr]
Terra Cotta Tennis Warriors Unveiled in Shanghai: Federer, Nadal, Davydenko, Djokovic, Roddick, Ferrer, Gonzalez, Gasquet [tr]
Roger Federer Trades His Tennis Racket for a Sword