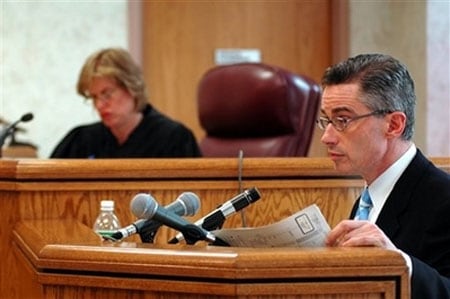 Former NJ Governor Jim McGreevey took the stand yesterday in his divorce trial against wife Dina. McGreevey, who is scheduled to take the stand again today, told the courtroom that he'll only earn $48,000 this year and that his partner Mark O'Donnell, is supporting him. He says he can pay child support, but has no money for alimony, according to the Star-Ledger:
"On the stand, McGreevey said a sofa, a loveseat and an oriental rug bought during a going out of business sale at Huffman Koos are his only furnishings in the $1.3 million Plainfield home he shares with partner Mark O'Donnell. O'Donnell is paying all of McGreevey's living expenses, his legal bills, even an $11,000 debt to the Internal Revenue Service. He owes $204,720 to O'Donnell, a debt McGreevey swears he will repay. McGreevey said he drives a leased car, lives in a house that is paid for by O'Donnell and the only thing he can afford on his own is the $2,500 a month in temporary support the court ordered him to pay his estranged wife Dina Matos McGreevey. McGreevey said he is so strapped for cash, he has not paid a dime this year to his first wife Kari Schutz to support his teenage daughter Morag. He made $119,000 on the sale of his two-bedroom condominium in Woodbridge, but all that money is gone, spent on bills and trust funds for his two girls, Morag and Jacqueline. He got a $250,000 advance for his book, 'The Confession,' but that money was spent on legal fees, taxes, and to the ghost writer of the book. 'By virtue of this case, I have been financially crippled,' McGreevey testified yesterday."
An AP clip of his testimony in which he mentions his life in the closet and why he wanted to write his book, AFTER THE JUMP...