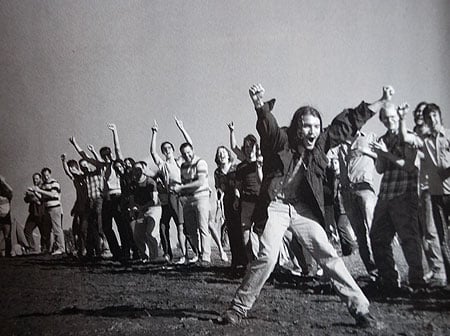 In the recent "photo issue" of Entertainment Weekly there are a few photos of Ang Lee's Taking Woodstock, which is shooting in upstate New York and is based on the memoirs of Elliot Tiber, the gay figure who helped facilitate the famous music festival.
In the film, Emile Hirsch plays a Vietnam vet ("Woodstock becomes a way for him to find the joy he has left in his life.").
Hirsch tells the magazine: "The mud's pretty cold. It's later in the year than it was during Woodstock. We were all shivering, and we had these silver-foil space blankets that miraculously keep you really warm...I did a Superman slide down a hill, and started turning on my back. I was covered in mud. I think there was pig crap mixed in, because we all smelled like crap."
A shirtless Hirsch before he dirtied himself up, AFTER THE JUMP...
Previously
First Look: Ang Lee's Taking Woodstock [tr]
Emile Hirsch Explains 'Gay' Moment with Fellow Actor [tr]
Emile Hirsch Gets Wetter for David LaChapelle [tr]
Emile Hirsch Strips Down for David LaChapelle in Hawaii [tr]