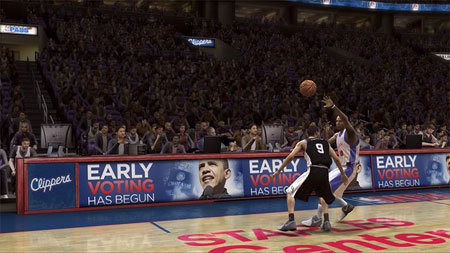 Video game makers have confirmed that the Obama campaign has bought up advertising space in the Xbox game 'Burnout Paradise' and a number of other titles, as evidenced by these screenshots.
GigaOM reports: "To my knowledge, this Burnout ad is far and away the most prominent use of a major online game to promote a presidential candidate's campaign. There have been near-misses, of course: In 2006, for example, when he was seriously considering a run for the Democratic nomination, ex-Virginia Gov. Mark Warner made an avatar-based appearance at a press conference in Second Life."
In other news, CBS news is reporting that Obama has opened up a 14-point lead on McCain: "Obama now enjoys leads over McCain with both men (53 percent to 41 percent) and women (52 percent to 37 percent). Eighty-two percent of voters who backed Hillary Clinton in the primaries now say they will back Obama - up from 67 percent last week and the highest number to date."
More of the Xbox screenshots AFTER THE JUMP...
(xbox via slog and americablog)