Barack and Michelle Obama cast their votes in Chicago a short time ago: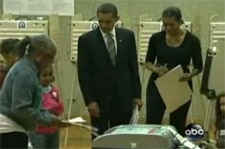 "The family was ushered inside ahead of a line of their Hyde Park neighbors that wrapped around the block and cheered upon their arrival. Fellow voters inside watched in silence and snapped cell-phone pictures. Obama kissed the cheek of the poll worker who took his ballot, then watched while she fed it into a machine. The crowd broke into applause when a smiling Obama held up his validation slip and said, 'I voted.'"
Watch it, AFTER THE JUMP...