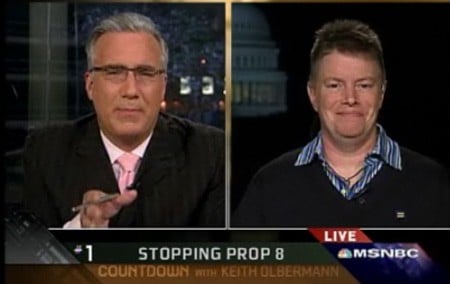 Candace Gingrich appeared last night on Countdown with Keith Olbermann to discuss Proposition 8 and the letter she wrote to her brother, Newt, after he appeared on The O'Reilly Factor and said, "I think there is a gay and secular fascism in this country that wants to impose its will on the rest of us...it is a very dangerous threat to anybody who believes in traditional religion." (video below, right)
Wrote Candace to Newt: "The truth is that you're living in a world that no longer exists. I, along with millions of Americans, clearly see the world the way it as -- and we embrace what it can be. You, on the other hand, seem incapable of looking for new ideas or moving beyond what worked in the past. Welcome to the 21st century, big bro. I can understand why you're so afraid of the energy that has been unleashed after gay and lesbian couples had their rights stripped away from them by a hateful campaign. I can see why you're sounding the alarm against the activists who use all the latest tech tools to build these rallies from the ground up in cities across the country."
Watch Candace Gingrich and Keith Olbermann, AFTER THE JUMP...