I couldn't partake of the 'virtual' town hall meeting on Prop 8 in L.A. last night (because the online event was only open to Windows users – apparently after uproar they allowed Mac users to dial in by phone but I was gone by then).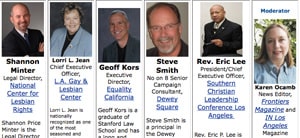 The Mac blunder seems to be indicative of the kind of issues the 'No on 8' campaign had from its inception, but I'll leave my frustration at that.
I'll post what I can glean from other sources.
A replay of the meeting is expected here within the day.
"Gay rights leaders hope to build a $1-million war chest to defend any judge threatened with recall for ruling in favor of gay marriage, leaders announced during a conference call with supporters Tuesday night. Leaders of the failed campaign to oppose Proposition 8, which amended the state Constitution to define marriage as only between a man and a woman, also said they would meet in January to plot the course for the movement's future. Supporters of gay marriage have sued to overturn Proposition 8, and the California Supreme Court will hear the case as early as spring. Geoff Kors, executive director of Equality California and one of the leaders of the No on 8 campaign, said he wanted to use any funds left over from the last campaign…They also vowed to improve their outreach to blacks and Latinos, who supported Proposition 8, according to exit polls."
Queerty (who also encountered the Mac issue) managed to liveblog some of it after dialing in.
Also, Equality California's Geoff Kors released a letter just prior to the town hall (via Rex Wockner) which you can read, AFTER THE JUMP…
****LETTER FROM GEOFF KORS****
EQUALITY CALIFORNIA
25 Nov 08
Thanksgiving.
Thanksgiving is just two days away. Given the passage of Prop 8, I have to admit it's been challenging this year to focus on being thankful.
The days since the passage of Prop 8 have been difficult and painful. It was a loss for all who cherish fairness and equality.
The lesbian, gay, bisexual and transgender (LGBT) community has faced the unprecedented experience of having a fundamental right eliminated by a majority of voters in California. There is a very good reason why, as a nation, we have not put the rights of a minority up for popular vote — this is an outcome which mars the dignity not only of our lives, but also of the democratic process.
But as challenging as the last several weeks have been, I have found many things to be thankful for.
First, the California Supreme Court has accepted our case challenging Prop 8 and we continue to believe that the Court should be the place where this issue is decided. The support from so many of our allies who have joined with us to overturn Prop 8 has been inspiring.
Second, I am thankful for the members of Equality California. EQCA members donated more than $14 million to defeat Prop 8 — $11 million more than any other organization. The power of our movement resides in people like you.
Third, I returned from Sacramento on Saturday after attending a powerful rally against Prop 8. Many EQCA board members and staff including John Duran, EQCA's current board president, and Cary Davidson, our board vice-president and I have had the chance to participate in town halls, call-in radio programs and rallies around the state — in Los Angeles, San Francisco, San Diego, Sacramento and Palm Springs. I continue to be inspired by the passion and determination of our community, especially young and emerging activists. And I'm encouraged by all our non-LGBT supporters who continue to stand up for fairness and equality and who remain determined to reverse this injustice. EQCA will continue to update the community on the actions taking place around the state and ways you can be involved.
Reflection.
Since November 5, I have received thousands of messages and calls from our community across the state and nation about what worked, and more importantly, what did not work in the No on 8 campaign. Many have asked about the structure of the campaign and how it was run.
It is only through this spirit of honest reflection that we'll be able to make progress and move the needle on full equality for LGBT people in California. There will be a full and independent assessment of every aspect of the campaign.
In the meantime, I want you to know that the campaign marshaled what we believed to be the best resources in our effort to defeat Prop 8. All key decisions regarding the campaign were made by a team of professional campaign consultants — some of the best in the nation in defeating ballot measures. Here's a quick summary of the campaign structure:
* When this campaign started in earnest — well over a year ago — we did what every statewide campaign must do: We hired a professional campaign consultant to make key media, strategy and messaging decisions. That hire, Steve Smith from Dewey Square Group, was made based on Steve's 30-year record in ballot campaigns in California, including twice defeating parental notification initiatives which had been expected to pass by large margins. Steve and Dewey Square Group wrote an in-depth plan and managed its execution.
* In May of this year, Steve brought on the media and public relations firm Ogilvy International to design ads and media strategy and brought in a team of professional campaign consultants and staff to run the different components of the campaign.
* National, state and local organizations contributed money and staff to campaign. The national field directors of the Task Force, HRC and GLAAD were members of the Executive Committee. The Task Force designed and led the statewide field effort and numerous national, state and local organizations lent staff to the field effort. We should all be appreciative of the many organizations based here in California that did so much to fight Prop 8. And a very special thanks to the senior staff from HRC, the Task Force, Gill Action, the ACLU and other organizations that uprooted their lives and temporarily moved to California to take on leadership roles in the campaign.
I am so appreciative of all the amazing campaign staff, the donated staff from so many organizations and the incredible volunteers who worked so hard to secure equality. I believe that the team hired was committed to making the best decisions they could. These decisions were based on the information our consultants had from a number of sources regarding what messages had the best chance of success with the undecided voters the campaign had to reach.
Commitment.
Still, given our disappointing loss, the campaign has committed to an external assessment of what worked and what didn't. While the campaign made many smart decisions, there's no doubt that mistakes were also made. The campaign is committed to learning from those mistakes so that a smarter and better campaign can be run in the future.
As new information emerges from the analysis of the election, I pledge to you to share information so that our movement can move forward with the knowledge and understanding of what it will take to win full equality in California and across the nation.
We must all renew our commitment to this cause. We've come too incredibly far to give up now. Consider the following:
* In 1948, when the California Supreme Court struck down state laws that banned interracial couples from marrying, 90 percent of Americans opposed the freedom to marry for interracial couples. In 1967 — nearly 20 years later — when the U.S. Supreme Court struck down similar laws across the nation, the number opposed stood at 70 percent. According to the Gallup Organization, it wasn't until 1997 that support for marriage for interracial couples broke the 50% mark — 49 years after the California court decision!
* In contrast, Prop 22 passed in 2000 by 61.4 to 38.6 percent — a 23 percent margin of defeat. This year, we narrowed our margin to 4 percent. More importantly, 6.2 million Californians voted against discrimination in 2008 compared to only 2.9 million in 2000 — an incredible increase of 54 percent.
* Speaking of numbers, here's one particularly compelling and heartening set of numbers: Above, I mentioned that it wasn't until 1997 that a majority of Americans supported the freedom to marry for interracial couples. What I didn't mention is that something incredible happened within the span of six years. In 1991, 48 percent supported the freedom to marry for interracial couples, while 42 percent opposed. In 1994, 48 percent still stood in support, but opposition dropped to 37 percent. Then, in 1997, the tipping point was reached. All of a sudden, opposition dropped to 27 percent and support jumped to 64 percent.
I believe we are on the cusp of our own tipping point, but it will take the ongoing determination and commitment of every single one of us. We must continue to tell our stories to our friends, family members and co-workers. We must continue to volunteer and to donate. While we lost on November 4, the trend line is moving in the direction of fairness and equality for all Californians.
We've seen how far we've come in a relatively short period of time. As we continue this dialogue with Californians, I'm convinced that a majority in our state will come to realize that they don't want to live in a place where we treat our fellow Californians unfairly.
I hope you will continue to join Equality California in our mutual struggle for freedom, fairness and dignity.
Happy Thanksgiving.
Warmly,
Geoff Kors
Executive Director
Equality California