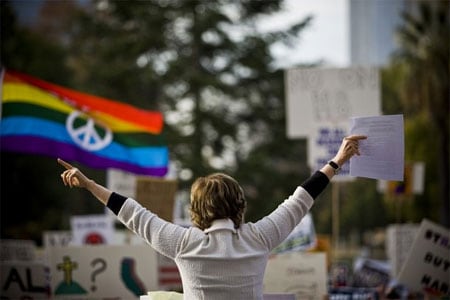 The California Highway Patrol estimated that 5,000 people showed up on the steps of the California capitol building on Saturday in the latest major action against Proposition 8, including speakers Gloria Allred (above), Robin Tyler, Diane Olsen, Margaret Cho, Selene Luna, and Equality California's Geoff Kors.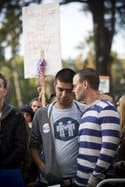 The L.A. Times reports: "Many in the crowd held signs calling for equality and separation of church from state. Several banners targeted the Mormon Church whose members helped defeat the measure. 'If the ban on marriage equality was unconstitutional in May, the ban will also be unconstitutional when the Supreme Court makes its decision in January,' said incoming Senate President Pro Tem Darrell Steinberg, D-Sacramento. California's highest court agreed this week to hear three legal challenges seeking to nullify the state's new ban on same-sex marriage. All three cases claim the ban abridges the civil rights of a vulnerable minority group. They argue that voters alone did not have the authority to enact such a significant constitutional change."
The SF Chronicle reports: "Protesters filled much of the lawn beyond the Capitol steps, carrying homemade signs with messages like 'What's so scary about our love?' and 'Give tolerance a chance.' Vendors walked through the crowd, selling gay-rights buttons and rainbow flags. The crowd was much smaller than the 15,000 to 30,000 organizers originally had advertised or even the scaled-back 10,000 they hoped for this week. But while the rally was talked up in the days after the election, the actual organizing was done on the fly. 'There was a lot of buzz about this, but no real information,' said Keegan Killian of California Outreach, one of the organizers. 'Our first planning meeting was little more than a week ago.'"
A couple great videos from the march, AFTER THE JUMP...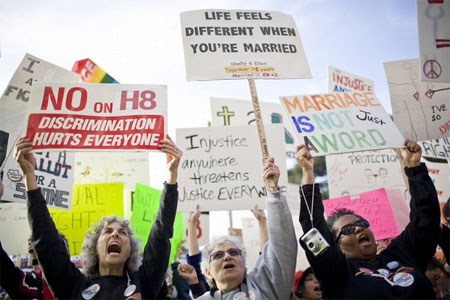 The marchers:
Gloria Allred rallies, and Margaret Cho sings a special protest song: