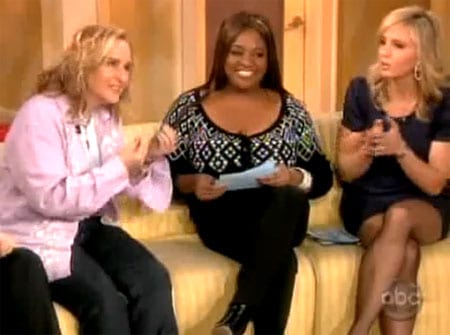 Yesterday, on The View, Melissa Etheridge tried to explain the founding fathers and the protections built into the Constitution to Elisabeth Hasselbeck in a discussion about Proposition 8.
Explained Etheridge: "Actually one of the things that was difficult about this was the - Thomas Jefferson wrote a paper (saying) the rights of the minority should never be voted on by the majority - that should never happen."
Hasselbeck basically said she believes that the majority should vote on the rights of the minority, and before Melissa Etheridge had chance to verbally smite her into a pile of right-wing dust, Sherri Shepard interrupted and said, "We wanted to talk about your CD."
Watch it, AFTER THE JUMP...
Hasselbeck also managed to whine her way into the White House Christmas party: "After complaining on 'The View' Tuesday morning that she did not receive her annual invitation to the White House Christmas Party — 'Maybe I didn't do enough for the Republican party this year?' she speculated — Elisabeth received an apology and an invitation from the White House."