Boston police are searching for 41-year-old Steven Odegard and are seeking the public's help. Daniel Yakovleff, a 20-year-old hair stylist, was found early in the morning on January 17th stabbed to death in an apartment belonging to Odegard in the city's Dorchester neighborhood.
UPDATE ODEGARD TURNS HIMSELF IN. He is to be arraigned today at 2pm in Suffolk Superior Court.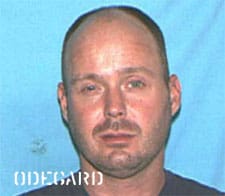 When I posted about it in January, I remember wondering why the police were not considering Odegard a suspect, since Yakovleff was found in one of his back bedrooms. At the time, the Boston Globe reported:
"The night Yakovleff was killed, he went to the Eagle bar on Tremont Street in the South End, then to a Dorchester apartment, police and friends said. The third-floor flat belonged to Steven Odegard, who had met Yakovleff that night, and later found him dead in his apartment, said Odegard's lawyer, John Swomley. Odegard told police he was asleep and woke to find Yakovleff dead in a back bedroom, police said. 'He is not a suspect,' Swomley said. Odegard has been cooperative, and police are looking for a third person, Swomley said. 'We're hoping police find the killer.' Department spokeswoman Elaine Driscoll said detectives have interviewed Odegard and are working 'around the clock' to solve the homicide. Driscoll said police are searching for witnesses who saw Yakovleff leave the Eagle that night."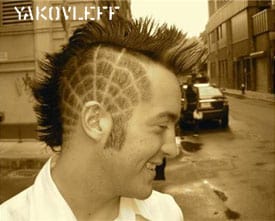 An investigation has been ongoing for nearly a year: "Suffolk County prosecutors led a grand jury investigation for 11 months that included testimony from 16 separate witnesses. Jake Wark, spokesman for Suffolk District Attorney Daniel F. Conley, said police went to Odegard's home on Dorchester Avenue to arrest him on a warrant, but he was not home. Wark said Odegard's attorney, John Swomley, has been alerted and that Swomley told police he will advise his client to surrender."
Why Odegard wasn't arrested at the time of the murder is a mystery to me, but maybe I missed something over the past ten months. You would think that when you find a dead man with a knife (allegedly) protruding from his chest in another man's apartment, there might be some suspicion?
Boston Herald: "Police Commissioner Edward Davis and Suffolk District Attorney Daniel Conley are now asking for the public's help in locating Odegard by contacting homicide detectives at 617-343-4470 or the anonymous Crime Stoppers Tip Line at 800-494-TIPS. Information can also be text-messaged by sending "TIP" to CRIME."
The Boston Police Department release, AFTER THE JUMP…
Previously
Still No Suspects in Fatal Stabbing of Gay Man in Boston [tr]
Gay Boston Man's Killing a Mystery [tr]
WANTED
GRAND JURY INDICTS DORCHESTER MAN IN JANUARY HOMICIDE
AUTHORITIES SEEKING HIS WHEREABOUTS, PUBLIC'S ASSISTANCE
BOSTON, Dec. 15, 2008—Suffolk County District Attorney Daniel F. Conley and Boston Police Commissioner Edward F. Davis today announced that they are seeking a Dorchester man in connection with the Jan. 17 stabbing death of 20-year-old Daniel Yakovleff, a day after the Suffolk County Grand Jury returned an indictment charging that man with first-degree murder.
Members of the Boston Police Fugitive and Apprehension Unit today made a forced entry into the Dorchester residence of STEVEN ODEGARD (D.O.B. 8/5/67) but did not find him and could not locate him. Authorities are now urging anyone with information as to his whereabouts to contact the Boston Police Homicide Unit at 617-343-4470, the anonymous CrimeStoppers Tip Line at 1-800-494-TIPS, or the CrimeStoppers Mobile Program by texting the word "TIP" to CRIME (27463).
"The tragedy of David's death was felt throughout the community and it is vitally important that the person responsible be held accountable," Davis said. "The Boston Police and the Suffolk County District Attorney's office have worked tirelessly on this investigation and will continue to be relentless in our efforts to locate and apprehend Steven Odegard."
"Investigators never gave up on bringing Mr. Yakovleff's killer to justice and we won't give up now," Conley said. "On the streets of Boston, in the sterile environment of a crime laboratory, and behind the closed doors of the Grand Jury, police and prosecutors worked hand in hand on a quiet, careful, methodical inquiry to build this case. We fully expect to hold him accountable for his actions."
Shortly after 6:00 on the morning of Jan. 17, Boston Police responded to Odegard's residence at the time, a third-floor Tuttle Street apartment, to find Yakovleff deceased in Odegard's bed. The young man had suffered multiple and severe stab wounds and was pronounced dead on the scene.
In the aftermath of the incident, Boston Police conducted an exhaustive search for witnesses, canvassing the neighborhoods in which Odegard lived and in which Yakovleff was last seen. Meanwhile, Boston Police criminalists scoured the crime scene and its environs for forensic and biological evidence and Suffolk County homicide prosecutors led an extensive, 11-month grand jury investigation into Yakovleff's grisly death, obtaining sworn testimony from 16 separate witnesses.
Evidence generated by all three modes of investigation indicates that Odegard retrieved a knife from his own kitchen and stabbed Yakovleff multiple times, killing him.
Early this morning, Boston Police seeking to execute a warrant for Odegard's arrest entered his Dorchester Avenue residence. He was not inside. Prosecutors today notified his attorney, John Swomley, that the warrant had issued and his client was wanted for murder.
When he is arrested, Odegard will be arraigned in the Magistrate's Session of Suffolk Superior Court on a single count of first-degree murder.