The Minnesota State Election Board tomorrow will announce Al Franken the winner in that state's contentious Senate race against incumbent Norm Coleman: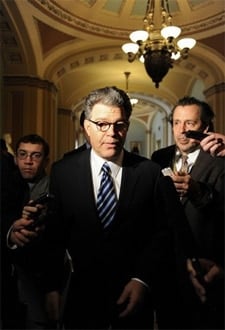 "The canvassing board on Monday will say a recount determined Franken won by 225 votes, Secretary of State Mark Ritchie told CNN. However, Coleman's campaign, which contends the recount should have included about 650 absentee ballots it says were improperly rejected in the initial count, has indicated it will challenge the certification. Coleman campaign manager Cullen Sheehan said his team believes the recount process was broken and that 'the numbers being reported will not be accurate or valid.'... 'The effort by the Franken campaign, supported by the secretary of state, to exclude improperly rejected absentee ballots is indefensible and disenfranchises hundreds of Minnesota voters,' Sheehan said. After the results are certified, Coleman's campaign will have seven days to file a challenge."
Senator Chuck Schumer indicated that the Senate should seat Franken: "With the Minnesota recount complete, it is now clear that Al Franken won the election. The Canvassing Board will meet tomorrow to wrap up its work and certify him the winner, and while there are still possible legal issues that will run their course, there is no longer any doubt who will be the next Senator from Minnesota."
It's doubtful that will happen easily: "Sen. John Cornyn, the chairman of the National Republican Senatorial Committee, called Schumer's comments premature and troubling, since Schumer is the new chairman of the Senate Rules Committee, which has jurisdiction over contested elections."
CNN's announcement, AFTER THE JUMP...