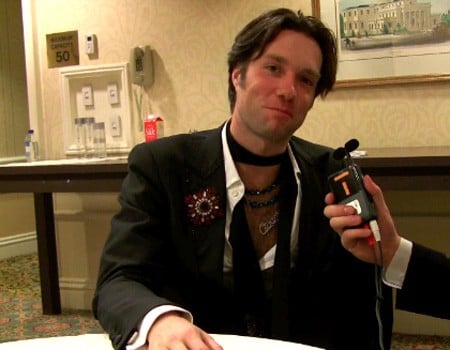 Towleroad stopped by the 'Out for Equality' Ball on Tuesday night at the Mayflower Hotel (where former Governor Eliot Spitzer had his affairs in Room 871) and we were able to sit down for a few brief moments with Rufus Wainwright, following his performance, to get his thoughts on the new administration.
The ball was sponsored by the Human Rights Campaign, PFLAG, GLAAD, the Service Members Legal Defense Network, and nearly two dozen other organizations. Megan Carpentier has a report at The Daily Beast.
At right, a video of Cyndi Lauper, Wainwright, Thelma Houston, and Catie Curtis, who gathered on stage following Lauper's performance to join her in a rendition of "Girls Just Wanna Have Fun" which turned into an impromptu celebration of the new president and first lady. Below, a photo I shot during that moment.
Watch Corey Johnson's chat with Rufus, in which he talks about visits to various inaugurations, his strapping German boyfriend, and what he's working on, AFTER THE JUMP...