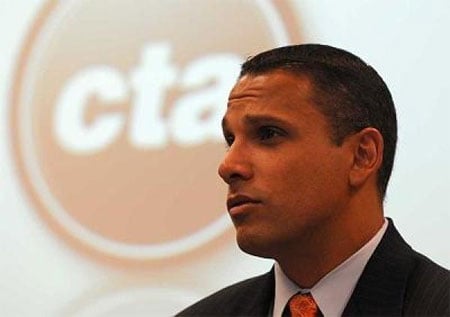 Chicago Mayor Richard Daley has chosen CTA President Ron Huberman to replace Arne Duncan (Obama's new Secretary of Education) as head of Chicago Public Schools, reports the Chicago Tribune: "Huberman has run the CTA since May 2007 after for about two years as Daley's chief of staff. He also has headed the city's Office of Emergency Management and Communications and was a Chicago police officer, rising to the rank of assistant deputy superintendent."
And commenters on message boards of local news sites are wrangling with another subject.
Tribune: "Another great Daley appointment. The only thing Luberman is qualified for is the principal of the proposed gay high. school.What a putz."
NBC Chicago: "Mr. Huberman has done a great job at the CTA. But is Chicago ready for a gay man to lead the CPS? Progressive cities on the east and west coasts have shown they will embrace a gay mayor, but are the parents of Chicago forward enough to accept a gay man without kids at the school sup? This should be interesting and groundbreaking."
"I don't mind that he's gay. I do mind very much that he has little experience in a classroom."
Catalyst-Chicago - who will replace Arne Duncan: "Ron Huberman? He's Black, white and gay!!! Great choice!"
Yelp commenter, in response to a coment about Huberman's good looks: "QJZ....sorry to disappoint you but, huberman is gay"
On a more concrete note, the Windy City Times reports: "In an analysis, The Chicago Sun-Times stated that Huberman, 35, who has practically no transit experience, has a huge job revamping the CTA. However, the article added that sterling reputation for efficiency should help make inroads with some state lawmakers in order to secure funds. Huberman has a history of helping the LGBT and HIV/AIDS communities. Not only does he serve on Chicago House's board of trustees, but he has supported events such as AIDS Foundation of Chicago's World of Chocolate."
CTA President Huberman shows off evacuation techniques in city transit in a video posted last month by the Tribune, AFTER THE JUMP...