Prince Harry has been caught up in controversy after a 2006 video shot while he was at Sandhurst Academy surfaced: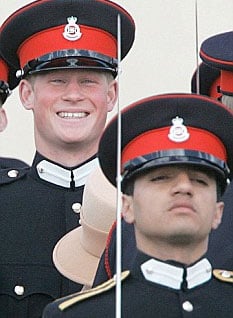 "In the film, the 24-year-old prince calls an officer (his friend Ahmed Raza Khan) from the Pakistani army, who was on the course with him, 'our little Paki friend'" and, when he sees another officer cadet wearing a camouflage veil, exclaims: 'Fuck me, you look like a raghead.' He also mocks the Queen - the commander-in-chief of the British army - during a pretend mobile phone call. Last night, St James's Palace issued an apology for Harry's behaviour in the film, obtained by the News of the World. A Ministry of Defence spokesman said last night: 'This sort of language is not acceptable in a modern army.'"
The Equality and Human Rights Commission has demanded an inquiry.
MORE: "Later Harry, wielding the camera again, asks another member of the squad to talk through the exercise they have just done. He asks for 'your ups and downs in the exercise. Highs and lows. Good people, bad people. Good points, bad points.' Off camera, he adds: 'How do you feel? Gay? Queer on the side?' Then Harry asks another cadet: 'Anything you want to say? There's no secrets here. Quickly just tell me what the f ** k is going on?' ... Other scenes in the video diary show Harry enjoying party nights out with his pals on manouevres. In one scene the Prince—now on the wagon—mockingly mouths to another soldier "I love you" before kissing him on the cheek and licking his face."
A spokesman for the Royal Family apologized for Harry's statements: "Prince Harry fully understands how offensive this term can be, and is extremely sorry for any offense his words might cause. Neither the army nor the armed forces tolerates inappropriate behavior in any shape or form. The Army takes all allegations of inappropriate behavior very seriously and all substantive allegations are investigated."
Watch the video (which doesn't include the gay references), AFTER THE JUMP...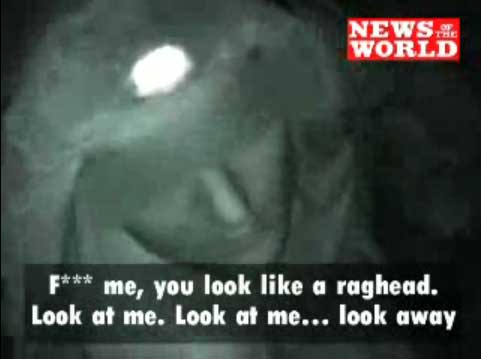 Previously
Nothing Says Royal Holiday Like a Beer Bong with Prince Harry [tr]
Prince Harry Meets His Leather Daddy [tr]
Prince Harry Keeps His Fellow Soldiers Entertained in the Field [tr]