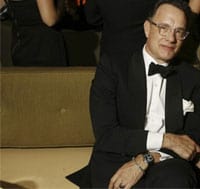 While the Golden Globes were fairly unremarkable last night in terms of "moments" aside from Sacha Baron-Cohen's expected eyebrow-raising commentary (this time a jab at Madonna for treating her ex-husband Guy Ritchie like her personal assistant) and the lack of nominations for Gus van Sant's Milk, which we've noted before, Slumdog Millionaire was the winner by numbers in the film category.
I did enjoy Tina Fey's revenge on anonymous internet commenters.
The late Heath Ledger won for The Dark Knight.
The only nomination for Milk was an acting nod for Sean Penn. Mickey Rourke won the category for The Wrestler. Darren Aronofsky flipped him off and it was caught on camera – video AFTER THE JUMP…
Still, Ted Casablanca from E! did manage to eke out a bit of gay politics backstage, asking Tom Hanks what he thought of Proposition 8. Hanks replied: "It's un-American. You put some good commercials on the air, you can convince anybody of anything. Love is love."
A full list of winners, AFTER THE JUMP…
2009 Golden Globes
BEST MOTION PICTURE, DRAMA
"The Curious Case of Benjamin Button"
"Frost/Nixon"
"The Reader"
"Revolutionary Road"
"Slumdog Millionaire" (Winner)
BEST MOTION PICTURE, MUSICAL OR COMEDY
"Burn After Reading"
"Happy-Go-Lucky"
"In Bruges"
"Mamma Mia!"
"Vicky Cristina Barcelona" (Winner)
FOREIGN LANGUAGE PICTURE
"The Baader Meinhof Complex"
"Everlasting Moments"
"Gomorrah"
"I've Loved You So Long"
"Waltz With Bashir" (Winner)
BEST DIRECTOR
Danny Boyle, "Slumdog Millionaire"(Winner)
Stephen Daldry, "The Reader"
David Fincher, "The Curious Case of Benjamin Button"
Ron Howard, "Frost/Nixon"
Sam Mendes, "Revolutionary Road"
BEST DRAMATIC ACTOR
Leonardo DiCaprio, "Revolutionary Road"
Frank Langella, "Frost/Nixon"
Sean Penn, "Milk"
Brad Pitt, "The Curious Case of Benjamin Button"
Mickey Rourke, "The Wrestler" (Winner)
BEST DRAMATIC ACTRESS
Anne Hathaway, "Rachel Getting Married"
Angelina Jolie, "Changeling"
Meryl Streep, "Doubt"
Kristin Scott Thomas, "I've Loved You So Long"
Kate Winslet, "Revolutionary Road" (Winner)
BEST ACTOR, COMEDY OR MUSICAL
Javier Bardem, "Vicky Cristina Barcelona"
Colin Farrell, "In Bruges" (Winner)
James Franco, "Pineapple Express"
Brendan Gleeson, "In Bruges"
Dustin Hoffman, "Last Chance Harvey"
BEST ACTRESS, COMEDY OR MUSICAL
Rebecca Hall, "Vicky Cristina Barcelona"
Sally Hawkins, "Happy-Go-Lucky" (Winner)
Frances McDormand, "Burn After Reading"
Meryl Streep, "Mamma Mia!"
Emma Thompson, "Last Chance Harvey"
SUPPORTING ACTOR
Tom Cruise, "Tropic Thunder"
Robert Downey Jr., "Tropic Thunder"
Ralph Fiennes, "The Duchess"
Philip Seymour Hoffman, "Doubt"
Heath Ledger, "The Dark Knight" (Winner)
SUPPORTING ACTRESS
Amy Adams, "Doubt"
Penelope Cruz, "Vicky Cristina Barcelona"
Viola Davis, "Doubt"
Marisa Tomei, "The Wrestler"
Kate Winslet, "The Reader" (Winner)
ANIMATED FILM
"Bolt"
"Kung Fu Panda"
"Wall-E" (Winner)
SCREENPLAY
Simon Beaufoy, "Slumdog Millionaire" (Winner)
David Hare, "The Reader"
Peter Morgan, "Frost/Nixon"
Eric Roth, "The Curious Case of Benjamin Button"
John Patrick Shanley, "Doubt"
ORIGINAL SCORE
Alexandre Desplat, "The Curious Case of Benjamin Button"
Clint Eastwood, "Changeling"
James Newton Howard, "Defiance"
Hans Zimmer, "Frost/Nixon"
A.R. Rahman, "Slumdog Millionaire" (Winner)
SONG
"Down to Earth" (performed by Peter Gabriel, written by Peter Gabriel and Thomas Newman), "Wall-E"
"Gran Torino" (performed by Clint Eastwood, Jamie Cullum, Kyle Eastwood, Michael Stevens, lyrics by: Kyle Eastwood, Michael Stevens), "Gran Torino"
"I Thought I Lost You" (performed by Miley Cyrus and John Travolta, written by Miley Cyrus and Jeffrey Steele), "Bolt"
"Once in a Lifetime" (performed by Beyoncé, written by Beyoncé Knowles, Amanda Ghost, Scott McFarnon, Ian Dench, James Dring, Jody Street), "Cadillac Records"
"The Wrestler" (performed by Bruce Springsteen, written by Bruce Springsteen), "The Wrestler" (Winner)
TELEVISION CATEGORIES
DRAMATIC TV SERIES
"Dexter"
"House M.D."
"In Treatment"
"Mad Men" (Winner)
"True Blood"
BEST ACTOR, TV DRAMA
Gabriel Byrne, "In Treatment" (Winner)
Michael C. Hall, "Dexter"
Jon Hamm, "Mad Men"
Hugh Laurie, "House M.D."
Jonathan Rhys Meyers, "The Tudors"
BEST ACTRESS, TV DRAMA
Sally Field, "Brothers & Sisters"
Mariska Hargitay, "Law & Order: SVU"
January Jones, "Mad Men"
Anna Paquin, "True Blood" (Winner)
Kyra Sedgwick, "The Closer"
TV SERIES, MUSICAL OR COMEDY
"Californication"
"Entourage"
"The Office"
"30 Rock" (Winner)
"Weeds"
BEST ACTOR, TV MUSICAL OR COMEDY
Alec Baldwin, "30 Rock" (Winner)
Steve Carell, "The Office"
Kevin Connolly, "Entourage"
David Duchovny, "Californication"
Tony Shalhoub, "Monk"
BEST ACTRESS, TV MUSICAL OR COMEDY
Christina Applegate, "Samantha Who?"
America Ferrera, "Ugly Betty"
Tina Fey, "30 Rock" (Winner)
Debra Messing, "The Starter Wife"
Mary-Louise Parker, "Weeds"
BEST MINISERIES OR MOTION PICTURE MADE FOR TELEVISION
"Cranford"
"Bernard & Doris"
"John Adams" (Winner)
"A Raisin in the Sun"
"Recount"
BEST PERFORMANCE BY AN ACTRESS IN A MINISERIES OR A MOTION PICTURE MADE FOR TELEVISION
Judi Dench, "Cranford"
Laura Linney, "John Adams" (Winner)
Catherine Keener, "An American Crime"
Shirley MacLaine, "Coco Chanel"
Susan Sarandon, "Bernard & Doris"
BEST PERFORMANCE BY AN ACTOR IN A MINISERIES OR A MOTION PICTURE MADE FOR TELEVISION
Ralph Fiennes, "Bernard and Doris"
Paul Giammatti, "John Adams" (Winner)
Kevin Spacey, "Recount"
Kiefer Sutherland, "24: Redemption"
Tom Wilkinson, "Recount"
BEST PERFORMANCE BY AN ACTRESS IN A SUPPORTING ROLE IN A SERIES, MINISERIES OR MOTION PICTURE MADE FOR TELEVISION
Eileen Atkins, "Cranford"
Laura Dern, "Recount" (Winner)
Melissa George, "In Treatment"
Rachel Griffiths, "Brothers & Sisters"
Dianne Wiest, "In Treatment"
BEST PERFORMANCE BY AN ACTOR IN A SUPPORTING ROLE IN A SERIES, MINISERIES OR MOTION PICTURE MADE FOR TELEVISION
Neil Patrick Harris, "How I Met Your Mother"
Denis Leary, "Recount"
Jeremy Piven, "Entourage"
Blair Underwood, "In Treatment"
Tom Wilkinson, "John Adams" (Winner)
CECIL B. DEMILLE LIFETIME ACHIEVEMENT AWARD<
Steven Spielberg