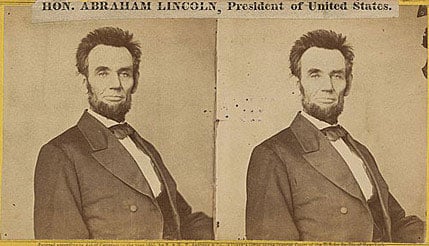 Kempt does an analysis of a recently-uncovered photo of Lincoln, taken a few months before he died, in which it's been noted that #16 is sporting a "surprisingly contemporary hairstyle." Adds Kempt: "There's a lot more to like here than just his hair. Check out the peak-but-not-too-peak lapels, the floppy cravat, and the duster-style double-breasted jacket, for starters. And given the proliferation of ironic facial hair, we're amazed the chinstrap hasn't had more of a revival."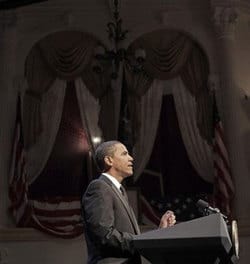 Today, as you may know, is Lincoln's 200th birthday. It's being celebrated in Washington D.C. as well as the state of Illinois, and this week there are no less than three major documentaries about Lincoln on TV.
Obama paid tribute to Lincoln at an event last night at Ford's Theatre, standing below the flag-draped box where Lincoln was assassinated. Said Obama: We know that Ford's Theatre will remain a place where Lincoln's legacy thrives, where his love of the humanities and belief in the power of education have a home, and where his generosity of spirit are reflected in all the work that takes place...The American people needed to be reminded, he believed, that even in a time of war, the work would go on; that even when the nation itself was in doubt, its future was being secured; and that on that distant day, when the guns fell silent, a national capitol would stand, with a statue of freedom at its peak, as a symbol of unity in a land still mending its divisions...It is this sense of unity that is so much a part of Lincoln's legacy. For, despite all that divided us -- north and south, black and white -- he had an unyielding belief that we were, at heart, one nation, and one people."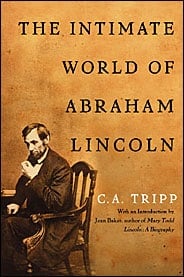 In 2004, C.A. Tripp published a controversial book suggesting Lincoln was gay:
According to the NYT review, among Tripp's assertions are that Lincoln had a "youthful affair" of four years with Joshua Speed, had a homosexual relationship with bodyguard David V. Derickson, shared a bed with a man named Billy Greene who told Lincoln's law partner that the president's thighs "were as perfect as a human being Could be," and "wooed" fellow lawyer Henry C. Whitney "to close intimacy and familiarity."
The book argues that it was Lincoln's homosexuality that led to his volatile relationship with Mary Todd Lincoln and describes an account by bodyguard Derickson's commanding officer: "Captain Derickson, in particular, advanced so far in the president's confidence and esteem that, in Mrs. Lincoln's absence, he frequently spent the night at his cottage, sleeping in the same bed with him and — it is said — making use of his Excellency's night-shirts!"
Every known photo of Abraham Lincoln, from 1846 to his death in 1865, AFTER THE JUMP...
Previously on Lincoln...
Obama-Lincoln Gets the Rainbow Treatment in Boston [tr]
Is it Abraham Lincoln? [tr]
Abe Lincoln's Intimate Encounters [tr]
Also, the penny is getting a makeover in Lincoln's honor: